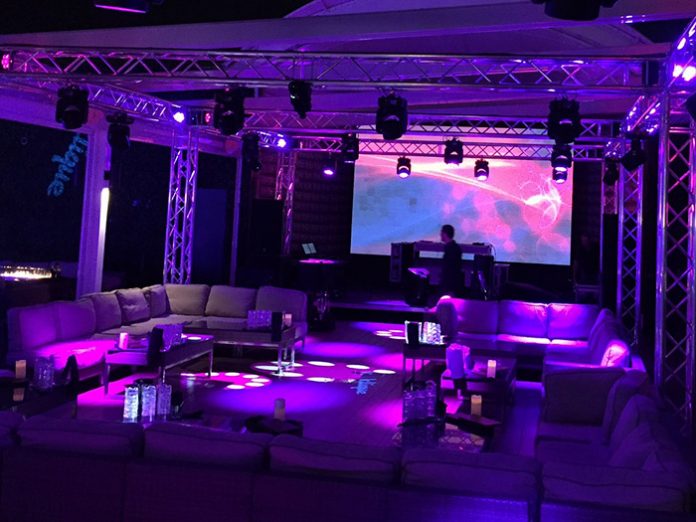 E11even Nightclub in downtown Miami attracts an impressive number of top DJs and other dance music artists, especially around Winter Music Conference time. The profusion of EDM, hip hop and house music talent has been even more marked since the two-story club expanded by opening a rooftop dance and chill area that recently received a lighting upgrade from iDesign Productions that included Elation Professional lighting fixtures.
E11even opened in 2014 as a unique 24/7 club with an alluring and sophisticated atmosphere. New lighting for the rooftop, an open area with dance floor, sofa seating and views of downtown Miami, was completed early in 2016 and has invigorated the space as a place to linger. The truss above the rooftop dance floor holds an atmosphere-generating rig that includes Elation Platinum HFX moving heads, Sniper multi-effect lights, SixPar 200 LED PAR lights and Protron 3K strobes.
Lighting Designer Michael Meacham of iDesign Productions commented on the idea behind the new rooftop lighting scheme, which was installed in time for this year's Winter Music Conference: "With the new rooftop lighting we wanted to make it a more intimate space so that people would stay on the roof longer. We use the new lighting to make the space blend into the landscape. We've brought the space in and made it more engaging."
Michael spoke of the Platinum HFX hybrid moving head fixtures and stated how they are used for powerful beam and aerial profile looks in relation to crowd coverage. Packed with colour, graphics and effects options, the mid-sized light provides a 280W Philips MSD Platinum 14R lamp and can emit up to 12,000 lumens of power.
Dressing the truss in shades of warm colour are SixPar 200 LED lights, a 6-colour LED PAR fixture that Michael stated he was familiar with from other club installs he has completed. The SixPar 200 houses 12x 12-watt LEDs and can colour match the environment to any occasion. They include a UV LED for added effect possibilities, which Michael explained he utilises regularly. Elation's Sniper multi-effects add extra punch, power and fast movement to the rig.
Michael and iDesign Productions have been involved with E11even since its opening, having worked closely on the club's design concept with the architect and club owner. Michael and his team decided to outfit that the club's space would be bettered utilised with the Elation ACL 360i effect light, which are really "bright and punchy". Michael gave examples of how they could be put to good use; 'cross beam big looks' & 'rock 'n roll-type looks with beams in the air.' The ACL 360i is a unique, compact beam fixture with single 60W RGBW LED, narrow 4-degree beam and continuous 360-degree rotation that can liven up any space.
iDesign Productions worked closely with Elation partner Freed Sales on the project, the Miami-based rep firm who they've worked with on a number of other clubs in south Florida. Michael concluded by expressing his appreciation with the cooperation: "Freed Sales has taken care of us and Freed President Dustin Pesnell is one of the hardest working sales people I know. We're demanding and he keeps coming back. If I ask, he'll deliver. He's very diligent and we appreciate that about him. It's all about relationships and support and he understands that."
https://www.elationlighting.eu/en