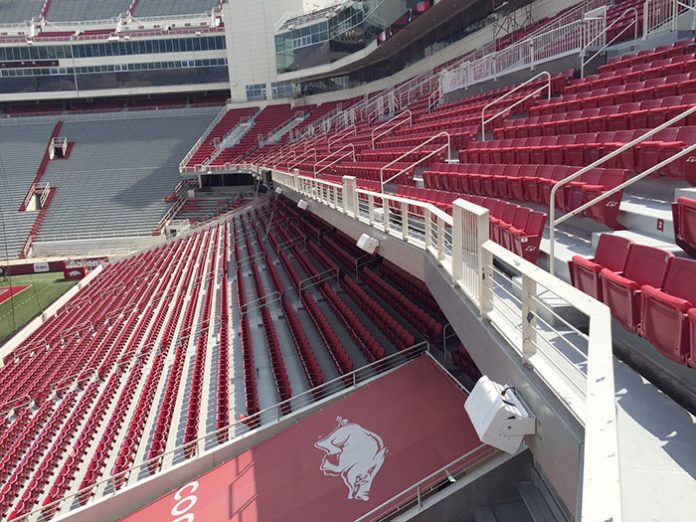 Springdale, Arkansas-based Commercial Audio Systems (CAS) recently installed One Systems Direct Weather loudspeakers in the south end zone at Donald Reynold Razorback stadium at the University of Arkansas.
"We were replacing older, worn out loudspeakers and needed a product that was intelligible with sonic clarity and capable of handling the weather," explained Jim Crews, principal at CAS. "It was a pretty tight time frame, so we worked with Mike O'Neill, Chief Engineer at One Systems, and designed a system that suited the stadium's needs perfectly."
The distributed system is made up of 34 208/HTC loudspeakers that cover the dark areas under the overhangs at the south end of the stadium. The two-way loudspeaker design features a two element vertical array made up of two eight-inch low frequency devices. The top eight-inch unit is a coaxial design that utilises a medium format titanium compression driver to provide the necessary high frequencies.
The injection molded enclosure is made of high-impact copolymer materials that exhibit superior weather resistance. In addition, the 208/HTC uses 316-grade stainless steel (marine-grade) for all structural rigging points and all rigging accessories are also made using 316-grade stainless. The metal grille components feature a newly developed marine-grade powder coat over 304-grade stainless steel, which makes the cabinet impervious to rain and moisture. The design also features a three-layer rain shield grille and input weather cover with an IP68 rated waterproof gland night for added protection from the elements.
"One of the nice things about the new HTC models – in addition to their direct weather capabilities – is that you no longer have to order 70v or low impedance. The units can be configured for whatever mode we need on site," added Jim. "It's one size fits all, so ordering is much easier."
Jim continued: "I also have to hand it to the team at One Systems. This was a last minute project with a week and a half window for ordering and installation – and they got it done. Our client is very pleased with the product and the end result."