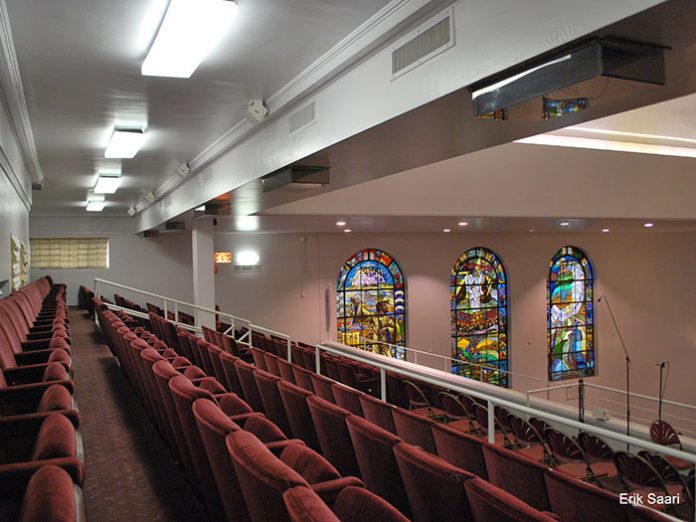 One of the oldest Conservative Jewish congregations in Chicago, Anshe Emet Synagogue was founded in 1873 and moved to its current building in 1929. Services feature performances by Alberto Mizrahi, the congregation's world-class Hazzan, or cantor (a person who sings liturgical music and leads prayer), as well as by guest cantors. The sanctuary also hosts a wide range of events.
The sanctuary and its 30-year-old sound system, however, were designed for spoken word. The old loudspeakers were 50 ft above the centre of the congregation, which left significant parts of the sanctuary without good coverage, and the system could not handle the demands of musical performances. Anshe Emet needed a modern sound system.
Fortunately, Erik Saari, Vice President of Sales and System Design for systems integrator Sound Planning Associates, had long mixed sound for Anshe Emet. He knew the room intimately and was the obvious choice to design and install the new system.
"Having run sound at Anshe Emet for 15 years, this was a labor of love for me," said Erik. "We decided to design the system around Alberto Mizrahi's voice. His voice is stunning, and I don't have to boost it much, but he sometimes sings with other people, and we want everyone to hear perfectly. The sanctuary also hosts guest cantors, a lot of concerts, and a wide range of interfaith events, so they needed a more full-range, performance-level sound system."
The sanctuary seats 700 to 750 and features a large balcony and theatre-style seating. "The sound is pretty dry at most seats," noted Erik, "but we had to account for reflections on the side walls, as well as delivering clear, intelligible sound to the balcony seats. The room has a nice band-shell shape above the stage lip, which helps."
In addition to coverage, intelligibility, and a clean appearance, directionality was a major consideration. "People were used to hearing the sound from 50 ft above. I wanted to bring the sound back to eye level, with all ears and eyes pointing to the front, so they could hear everything that was happening on the stage and not get distracted by the acoustics. Steerable beam technology can cover a room precisely, without unwanted reflections, so we chose a pair of Renkus-Heinz Iconyx IC Live ICL-FR-DUAL steerable arrays for the front mains."
The ICL-FR-Dual provides five 6.5-inch cone transducers and three 1-inch, high-frequency compression drivers and has a typical throw of 160 ft. The loudspeakers' narrow profile and white paint blended with the sanctuary wall to provide the desired clean look.
To deliver sound to the main balcony, Erik installed several Renkus-Heinz CFX41 passive, two-way, coaxial loudspeakers, flown above the front of the balcony and driven by Lab.Gruppen power amplifiers. "I just steer a little bit of sound from the arrays to the balcony to pull your ears to the front," he explained. The compact CFX41 features a four-inch coaxial transducer, a four-inch woofer, and a one-inch, soft-dome tweeter. Additional CFX41s (the system includes 16 in all) serve as front fills and side fills for the stage.
Erik mixes on a Yamaha QL1. The system is networked via Dante, Audinate's audio-over-Ethernet technology, which, he said, has worked very well.
Since he is the sound person for Anshe Emet, Erik is one of the beneficiaries of the new sound system. "With the old system, I could never hear clearly from the mix position," he noted. "I just got used to how bad it sounded. With the new ICONYX steerable arrays, I'm sitting within the beam pattern, so I can make better decisions and know what it's going to sound like in the seats."
Alberto and other leaders of the congregation are big fans of the system, said Erik. "In fact, we have two simultaneous services, seating another 1,000 people in the social hall/cafeteria, and we're installing a Renkus-Heinz system in that room, too."