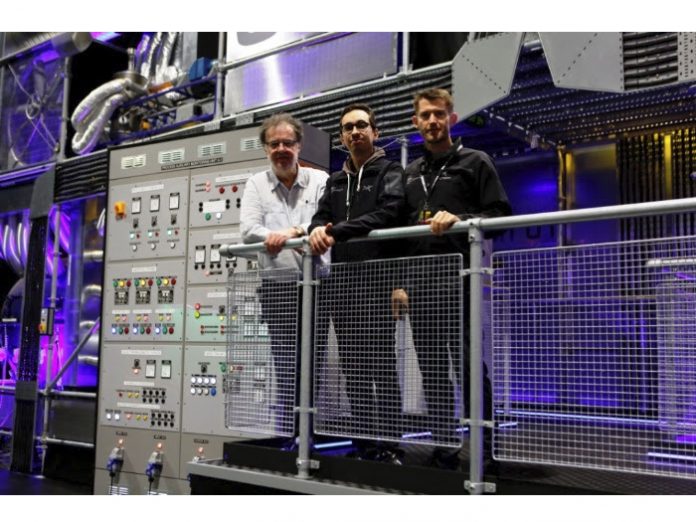 Powersoft Quattrocanali amplifiers providing the beating heart of a new entertainment experience in the UK.
Created by the award-winning producers behind the BBC series (and arena show) Walking With Dinosaurs, the new Dinosaurs In The Wild (DITW) utilises the latest AV and animatronic technology to generate a walk through, interactive spectacle for the audience.
Central to the successful creation of TimeBase 67 (built by Chronotex Enterprises) is the sound and lighting design along with cutting edge animatronics and the very latest in 3D AV technology. The accent is on authenticity and accuracy.
Sound has been entrusted to Remarkable Projects, the newly-formed partnership between leading West End theatre designer, Bobby Aitken and Scott Willsallen. "I was asked by a long-term client and friend to get involved [in DITW] as the sound was, in his words 'going to be really tricky, and you're great at tricky.' As work began it became clear that not only was the sound going to be tricky, but the requirements for the control system were also very complex.
"Shortly into the project, it became clear that the control system would be a significant beast requiring complex integration into the audio replay and the triggering and synchronisation of lighting and video content," Scott continued. "The attention to detail in the designs and implementation from [set designers] FRD was incredible. Our job was to give sound to everything that should have sound to support the reality and believability, for example, the time machine itself, elevators, roller shutters, A/C ducts, fridges, door opening sounds, door closing sounds, and so many other items.
"When I started considering the options I was searching for the impossible. Key factors were reliability, onboard DSP, remote control and monitoring over Ethernet, Dante, low impedance and 100V operation switchable per channel, around 200 to 400W per channel, line monitoring and low-cost per channel given our requirement of over 140 channels.
"I considered every amplifier brand that I knew to be reliable," he continued. "I started looking at the Ottocanali range which offers great value per channel, before learning of the soon-to-be-released Quattrocanali series by a colleague from Powersoft's Australian distributor, PAVT. The 1204 DSP+D was perfect in every regard and in a 4-channel unit, divided between the audio node racks with fewer unused channels." Since sustainability and energy efficiency is a top priority for all their projects, Quattrocanali offers that aplenty.
Remarkable Projects' goal to deliver an audio experience that perfectly supported the creative intent and allowed the audience to suspend their disbelief, was consummately achieved, as was their desire to offer trouble-free operation. "Every element of the experience is deliberate, from the branded uniforms of the cast, to the set dressing to the sound of snoring and farting baby dinosaurs, and the anatomical accuracy undertaken in every element of presenting dinosaurs," Scott confirmed.
And so the endeavour to create a 3D 360° soundscape has been a feat of genius. "Our clients are extremely happy, 18 months ago sound was the greatest risk on the project, now it has become the immersive glue that, combined with the work of FRD, maintains the believability. Overall, it's a brilliant experience and the reviews on TripAdvisor seem to agree." Creative Director Tim Haines concluded: "The result has worked wonderfully; we have an experiential space like nothing anyone has seen or heard before."