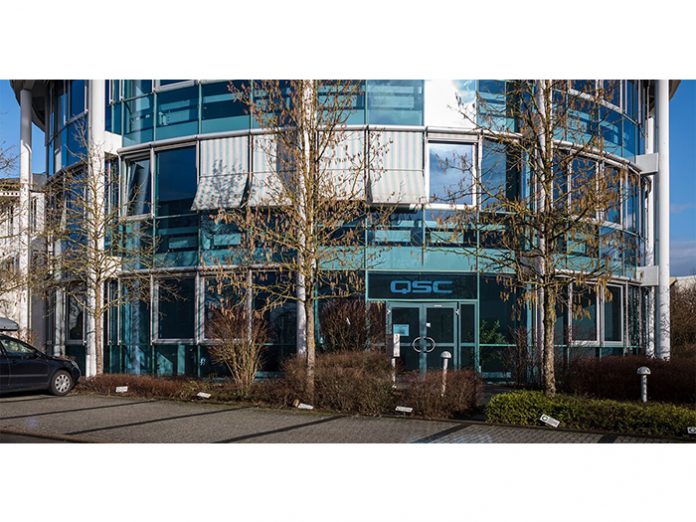 Opening sales and business development offices in the United Kingdom and Germany in June 2018 video and control (AV) solutions, is pleased to announce the opening of its EMEA headquarters in Sinsheim, Germany. The office will serve as the management and support hub for its Systems business in the Europe, Middle East, Africa and SAARC sub regions, and is a central element to the company's international growth strategy.
"QSC maintains a leading position in North America as a solutions provider for corporate meeting rooms, hospitality, large-scale performing and sports venues, government applications and more.
Establishing a regional headquarters in Europe brings us closer to key geographic markets and enables us to expand in-region services to better serve our distributors, channel partners, influencers and end customers," says Markus Winkler, Senior Vice President, QSC Systems and Managing Director, QSC EMEA.
Winkler added: "The corporate AV systems market is of particular focus to us. Given the ongoing convergence of AV and IT, multinational end user clients increasingly expect closer ties with manufacturers to inform better long-term investment decisions. Additionally, they look to us to help coordinate multinational and global AV deployments with their chosen, qualified channel partners."
In addition to the European headquarters in Germany, QSC will open sales and business development offices in the United Kingdom and Germany on 1 June 2018 – establishing a local presence in two of the largest and most influential AV markets in Europe. At the same time, QSC will end its long-term distribution cooperation with Shure Distribution UK and Shure Distribution Germany.
Peter James, Managing Director Shure Distribution UK concluded: "For many years, QSC had a long-standing and excellent partnership with both Shure Distribution companies. Because of this strong partnership, QSC has grown into a leading technology brand in Germany and the UK. QSC and Shure remain complementary, class-leading brands that collectively provide exceptional end user value. We will work closely with QSC in the coming months to ensure a professional and seamless transition for our customers in these regions."