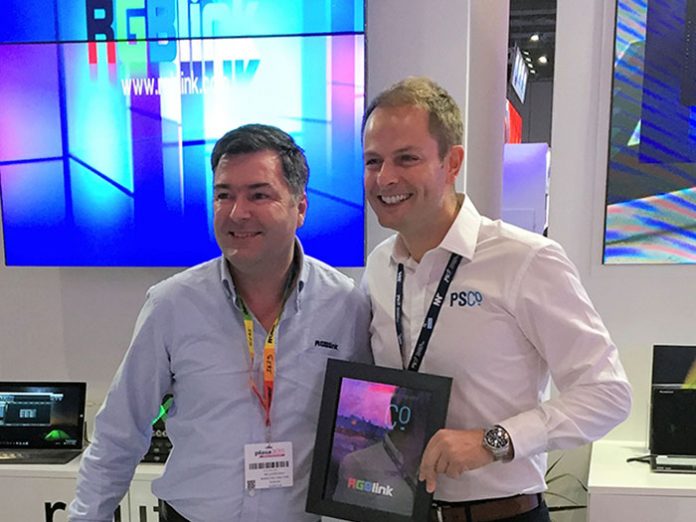 PSCo, the trade only AV distributor and rental specialist is delighted to announce it has become the exclusive distributor for RGBLink in the UK and Ireland. The partnership – announced at PLASA 2015 – further enriches PSCo's brand portfolio, and in particular deepens its LED offering, by providing clients with unique access to RGBLink's ground-breaking and comprehensive range of video processing and related products.
RGBLink manufactures full colour LED display controllers, mapping system solutions, broadcasting devices, conference and video wall controllers, and much more. The products are suited to a wide variety of applications ranging from entertainment, broadcast and control rooms, through to conference spaces and digital signage. This industry reach impressed Stuart Holmes, Managing Director at PSCo when he first met up with RGBLink at PLASA 2014:
"Amongst all the great technology on show at PLASA last year, the one thing that really struck me was the RGBLink product portfolio and its potential synergies with our own," he said. "Discussions began shortly after the show and we find ourselves almost 12 months later being in a position to announce this strategic partnership which is going to deliver huge benefits to our channel partners and their customers, as well as further enhance our mutual business offerings. In fact, rental companies have seen the RGBLink portfolio as a great return on investment, the performance of the product in relation to its price point is extremely impressive. I'm really looking forward to taking this partnership forward in the UK and Europe over the coming months."
"There is a synergy not only between the product offerings from RGBlink and PSCo, but also our approach to business," added Ben Hu, RGBlink's Overseas Sales Manager. "I knew straight away from my first meeting with Stuart that we would work well together and that we'd found the agile and knowledgeable distribution partner we'd been seeking in Europe. PSCo has the expertise and approach to business that we required, and their impressive operations across sales, service, technical support and training, fits perfectly with our approach and strategy in Europe."
The two companies have worked closely together over the past 12 months, with PSCo representatives across Technical, Service & Repair and R&D teams spending time in China, extensively testing and benchmarking products, as well field testing RGBLink products in the UK.