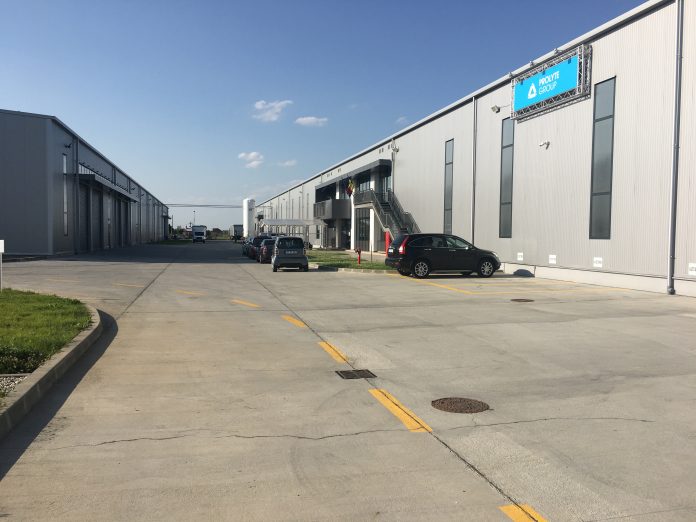 Following continued growth, Prolyte Group has solved its need for additional production capacity by expanding its new production site in Piatra Olt, Romania, which was opened in 2016. With this expansion Prolyte has completed an additional 4,400 sq metres production space to the already impressive facilities.
Consolidating all its European manufacturing capacity into an approximately 10,000 sq metre facility, Prolyte Group can boost to have one of the largest and most modern production facilities for the manufacture of truss systems with room for further growth with expansion possibilities of up to 16,000 sq metres. The new factory involves an investment of €3.5 million euros, which was funded partly with support from the European Union and the EximBank.
The complete production facility is accommodated with brand new automated production equipment and state of the art product lines. In addition, the building contains industry-leading employee welfare and environmental systems, as well as an in-house training facility for welding personnel. The complete bespoke factory, including all equipment, procedures and personnel has obtained a EN1090 certification in the highest execution class III and is also ISO 3834-2 certified.
As Lambert Bouwmeester, CEO of Prolyte Group states: "Our main purpose was to have all our production facilities on one site. We still operated from our previous production location in Slatina for some parts of the production, which we were now able to transfer to Piatra Olt. This will provide us with more efficiency as well as flexibility in the production process". Mihai Hlihor, COO of Prolyte Group adds, "This second production facility gives us the opportunity to organise our production process with much more efficiency. We now have easy access to our materials. Furthermore, we have created fast lanes for non-standard products, enhancing the production flow of these products.
"We have also created a special department to train our welders, to ensure we have a constant flow of skilled and certified welders" continues Mihai, "It is of high importance to gear up whenever that's needed, particularly in peak seasons or when you obtain a large order. In our industry delivery times are crucial. We have ensured a constant production volume by looking for customers outside the entertainment industry, who require high-end, certified, aluminium welding".
Lambert Bouwmeester concludes: "We started the plans for this second production facility almost directly after we opened the factory, which gave us the opportunity to think ahead in our needs and capacity issues. Opening this facility in such a short timescale from opening the first is an exceptional accomplishment for all the team involved". With the second production facility in place, Prolyte Group fortifies its market position by growing its capacity and keeping delivery times in sync with customer demands.