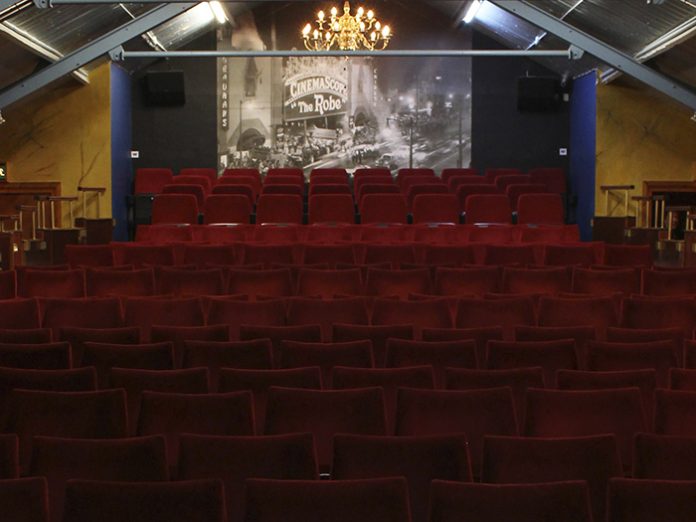 Prolight Concept Group recently worked with installers, EES Showhire for the lighting installation at Kinema in the Woods.
The owner wanted the venues new lighting to be forgiving of the art deco era it encompasses. A wide variety of fixtures were used in the installation from warm white profiles illuminating the stage to LED pars and battens uplighting the drapes and even a disco ball.
Due to the roof trusses in the building, which are too low for an image to be projected from the back of the auditorium, films in Screen One at the Kinema In The Woods are projected from behind the screen and on to a mirror to flip the image. This is the biggest of the screens and holds 229 seats. A second screen with 92 seats was added in 1994, with a third screen finishing the setup, a lot more private with only 74 seats, was added just this year. Its decor has been created to match the existing features of both cinema 1 and 2 with a 1920's style but featuring modern touches like turning 35mm movie reels into wall lights, created with Visio TRI-RGB Flexible Tri-Colour Strip. Also, LEDJ Event Spots were used to highlight specific features on the walls of the auditorium.
The Kinema is believed to be the only full-time cinema in the UK still using rear projection and is also one of very few cinemas to still have an organ, installed in 1986, for the interval of the films shown. To enhance this special feature, the organ is illuminated with eLumen8 PF100 WW Profiles and the LEDJ Intense series slim pars. The dramatic drapes in each of the screens had to be made a feature of and were uplighted with both the Equinox Quad Pix Battens and the LEDJ Slimline 7Q5 pars. As an added extra, a disco ball with Equinox LED Quad-colour Pinspots, alongside an Equinox Gyrocopter were utilised for special occasions.
Philip Jones, Managing Director of the Kinema in the Woods commented: "Lighting is very important here to create mood, ambience and showmanship. The use of traditional art deco fittings along with these modern touches, all controlled by touch screen panels at the entrance of each Kinema, does this. The touch panels allow the colours to be changed easily and are also connected to the projector allowing the lights to automatically dim once the film starts."
Andy White and the EES Showhire team were pleased to be able to work with the Kinema team again on the new screen 3, after previously upgrading the stage lighting in Kinema 1 back in 2017 and so offering more flexibility and greater control, to create the perfect ambiance for the audiences of the Kinema In The Woods.
"Screen 3 offered new challenges for us" said Andy White, "as this new screen had to give the impression of a 1920's Art Deco theatre whilst using the latest LED lighting products offered by Prolight Concepts, and all this needed to be fully integrated to work alongside the latest digital projection technology. This was done by using many of Prolight Concepts control products along with Eaton iLight control. We, EES Showhire, custom-built a house light control system containing, amongst other products, LEDJ Flexoled FTP3 RGB LED DMX drivers along with a Visio Meanwell SP320 DC power supply and Transcension CS2 DMX Splitter. All of this was made easier with the support of the team at Prolight."