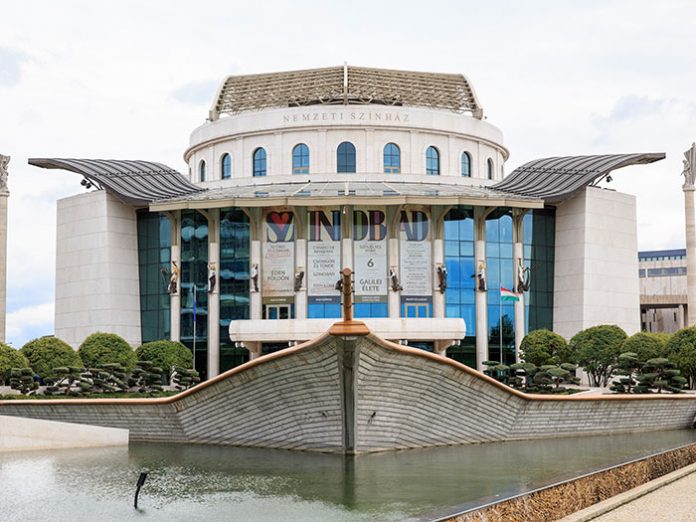 In its quest to deliver the best live production possible, the Hungarian National Theatre has selected the Studer by HARMAN Vista 5 M3 compact digital mixer for its reliability, intuitive operation and amazing sound quality. A showcase of Hungarian artists and musicians, the National Theatre presents a demanding schedule of traditional theatre classics, contemporary plays, music performances and spoken word adaptations of Hungarian literature. The theatre features a 615-seat auditorium with a real moving stage that can be raised at 72 different points, making it unique in Europe.
Viktor M Szabo, Chief Sound Engineer for the Hungarian National Theatre commented: "When the National Theatre opened in 2001, we had a Studer D950 digital mixing desk. At that time, it was one of the biggest configurations of that type of console and it worked great for us. After 14 years of great operation, we decided to stick with Studer and we upgraded to the Vista 5 M3 digital console."
Hungarian distributor Audio Partner Ltd. delivered the console in early 2015 and the National Theatre was up-and-running with their new 42-fader Vista 5 M3 by August. Along with the console, a TFT Meter Bridge, Studer Compact Remote and five Studer Compact Stagebox units finished out the installation.
The theatre's productions usually cover close to 50 channels, which use a lot of wireless systems as well as direct microphones and audio inputs. The Metre Bridge is a favoured-tool within the theatre because the waveform drawing is a huge help in filtering out clip-on mic handling noise and crackling sounds, as well as being able to troubleshoot across all ports very quickly.
The Vista 5 M3 is a highly flexible, compact digital mixer with a user-friendly control surface that will find favour among users in broadcast production, live sound and performance venues. The console is available in 22, 32 and 42-fader versions. The 32-fader desk consists of 20 channel strips, optimised for input channel operation and 12 additional versatile strips for operating input or output channels. By using the standard Vistonics screen rotary controls, up to 52 outputs are under immediate control. A total of up to 240 channels can be accessed from the desk and laid out in any order, with the Vistonics system giving instant control over all related channel functions. The customer specifies DSP power and I/O and the total I/O capacity, comprising various cards, including mic/line, ADAT, TDIF, AES/EBU, SDI and MADI may exceed 1,700 inputs and outputs.
All at the Hungarian National Theatre were very happy with the Vista 5 M3 console because of its uncomplicated manner, it sounds great and, with excellent product reliability and great customer support, it seems Studer can't be beat. From drama productions to bands and orchestras, to galas and large external events, the theatre hosts a diverse range of productions and the Vista 5 M3 consistently delivers a great performance.
https://www.harman.com