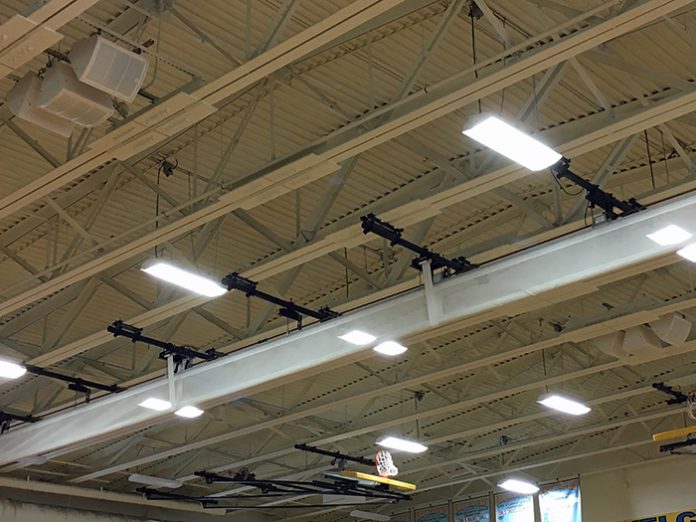 Lower Cape May Regional High School, a four-year public school that serves students from four local communities, is home to the Caper Tigers—the name for the school's sports teams that compete in football, basketball, soccer, baseball, softball, lacrosse and more. Recently, the school's gymnasium underwent a sound reinforcement system upgrade that could better handle the various activities that take place there. To address this challenge, school officials selected loudspeakers drawn from the WorxAudio catalog of PreSonus Commercial Division of Baton Rouge, LA.
ACIR Professional of Mays Landing, NJ, a full-service AV installation company handling audio, video, lighting, staging, backline, and sound system consultation and design services, was contracted to design and install the school's upgraded sound system. After meeting with school representatives to ascertain their requirements, Bobby Harper, ACIR's Vice President of Sales, elected to deploy a system consisting of six PreSonus WorxAudio Wave Series 12A loudspeakers. He discussed the project and his decision for choosing PreSonus Commercial Division products.
"Lower Cape May Regional High School's gym measures 150 feet by 200 feet and has a ceiling height of 25 ft," Bobby explained. "While there is no stage here, there are bleachers for the home and opposing teams on both sides of the space. In addition to basketball, the gym is used for a wide range of activities that include school dances, pep rallies, and more. Because, in many regards, this is a multipurpose space, it was important that the sound system be able to deliver quality music reproduction in addition to clear, articulate speech intelligibility."
To address these challenges, the ACIR team deployed a total of six PreSonus WorxAudio 12A loudspeakers. The installation consists of two clusters (each with three loudspeaker enclosures) positioned over the gym floor. Each cluster has two loudspeakers aimed toward the bleachers, with the third enclosure aimed at the floor.
When asked about the loudspeaker attributes that made the PreSonus WorxAudio Wave Series loudspeakers the ideal choice for this project, Bobby offered the following thoughts. "I've found that the PreSonus WorxAudio point source enclosures throw a little further than your average point source enclosures," he said. "They also have a very wide frequency range—with a nice controlled low end that is necessary for sporting events when they don't use subwoofers. They also have a lot of clarity and the ability to sustain high SPLs, which is needed to overcome the screaming fans. Equally important, the rigging is very user-friendly, so they can be configured many ways, and the loudspeaker's dispersion is 75 degrees vertical by 75 degrees horizontal with a very tight drop off—so there is no rear end lobing."
With many installation projects, questions arise, so responsive manufacturer support is crucial. Here, too, Bobby rates PreSonus Commercial Division best in class. "These boxes are typically built on an 'as needed' basis," Bobby reported. "When I spoke to PreSonus' Commercial Channel Manager Tony Flammia regarding the project, he took the chance and had the loudspeakers built for me before any PO was provided…unbelievable! Once a PO was generated, my boxes were delivered within a week. You can't beat that!"
The Lower Cape May Regional High School project was installed during early July and will be placed into service with the start of the new academic year. The loudspeakers were, however, used for a school district executive meeting, which according to Bobby, couldn't have gone better. "After that meeting," said Bobby, "I was told the executives were very impressed and that they would like to duplicate installations throughout the district. Already, our customer has requested numerous quotes for several new projects within the school district. The sound quality from this install has secured ACIR a long-standing relationship with the Lower Cape May School District. When one project leads to another, you can't ask for more than that!"
About PreSonus Audio Electronics, Inc
Founded in 1995, PreSonus Audio Electronics, Inc., is a leading designer and manufacturer of audio-recording and live-sound software, hardware, and related accessories. PreSonus' software, microphone preamps, signal processors, digital audio interfaces, digital mixers, control surfaces, loudspeakers, and other products are used worldwide for recording, sound reinforcement, broadcast, sound design, and Internet audio. For additional information, visit https://commercial.presonus.com/ or www.presonus.com or contact the company at 609-513-2016.