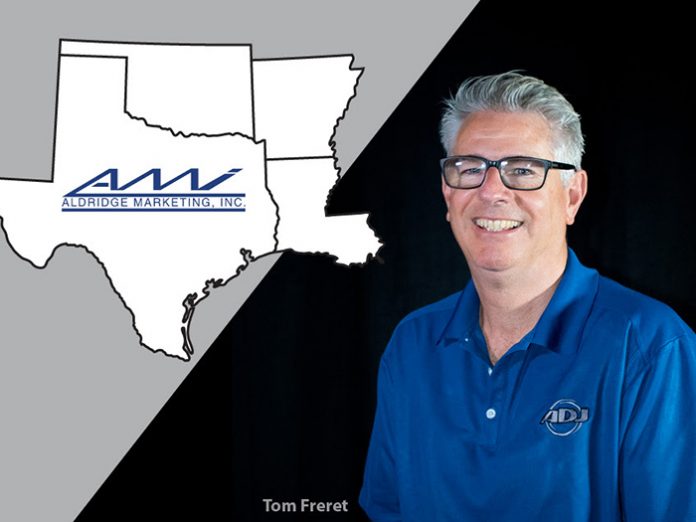 ADJ Lighting welcomes manufacturer's representative, Aldridge Marketing, and in-house sales representative, Tom Freret, as Regional Sales Manager, to aid in sales positions for their growing lighting, video, audio and accessory brands.
ADJ Products, LLC is pleased to announce two new appointments to its growing network of sales associates within the United States. The first appointment is that of Aldridge Marketing, Inc., a manufacturer's representative firm located in Austin, Texas. Since 1992, Randall Aldridge and the Aldridge Marketing team have represented AV and MI manufacturers in the states of Texas, Oklahoma, Arkansas and Louisiana. Effective November 1, 2017, Aldridge Marketing will represent ADJ Products, LLC (ADJ Lighting, American Audio, Accu-Cable and Accu-Case) throughout their territory.
"We are very excited to welcome Randall and his team at Aldridge Marketing to the ADJ family!," said Alfred Gonzales, National Sales Manager of ADJ USA. "Aldridge Marketing's expertise is exactly what we were looking for to represent ADJ's growing range of professional lighting and video products for installation, rental and production." Randall added, "It's great to be working with the company that pioneered the affordable entertainment lighting category."
ADJ Dealers and sales enquires may contact Aldridge Marketing via phone, email or web: 512-261-0550, sales@aldridgemarketing.com or www.aldridgemarketing.com. Randall and his team will be at LDI 2017 in Las Vegas with the ADJ team to meet customers from his assigned territory.
ADJ Products, LLC also announces the appointment of Tom as Regional Sales Manager representing all ADJ brands (ADJ Lighting, American Audio, Accu-Cable & Accu-Case) for the Pacific Northwest and Southwest regions encompassing Washington, Oregon, Wyoming, Montana, Arizona, New Mexico, Utah and Colorado. Tom duties will entail working directly with ADJ dealers in Arizona, New Mexico, Utah and Colorado. Plus, he will work with ADJ's rep firm, Audio Source, in the Pacific Northwest.
Tom has over 33 years of experience in the entertainment lighting and audio industry in retail, audio sales and club lighting design. Plus, Tom has been with the ADJ Group of Companies for 13 years serving as American Audio Sales Manager and Corporate Event Manager.
"Tom has been a valuable member of the ADJ Team in-house for well over 10 years representing American Audio and coordinating important corporate events," said, Alfred Gonzales. "Tom was the clear choice to represent all of the ADJ brands in the Southwest and Pacific Northwest regions."
ADJ Lighting is currently preparing for LDI 2017, November 17-19, 2017, at the Las Vegas Convention Center at booth #2715, in which they will be demonstrating their latest reliable lighting and video technologies.
About ADJ Products, LLC Headquartered in Los Angeles, with offices in Miami, the Netherlands, the UK and Mexico, ADJ Group of Companies, including ADJ Lighting, American Audio, Accu-Cable and Accu-Case, have been leading brands of lighting and audio products for mobile entertainers, night clubs, special events, productions, rental houses and churches since 1985.