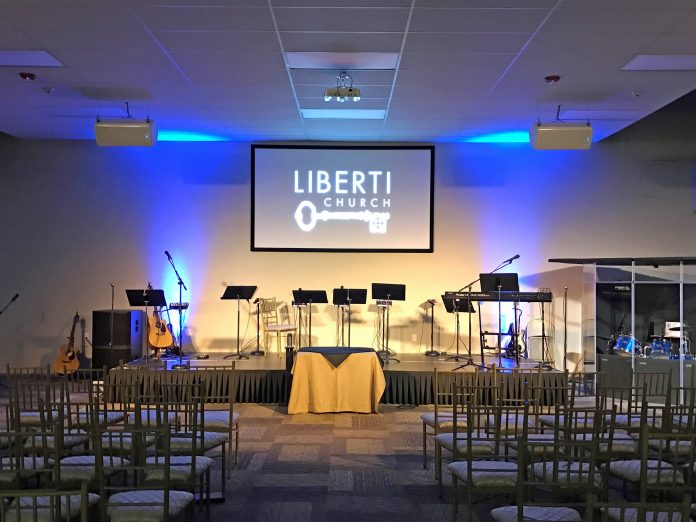 As a member of the Liberti Churches organisation, Liberti Church Harrisburg strives to live, speak and serve as the very presence of Jesus throughout their community. Stressing unselfish living and the ability to love God and others, Liberti Church recently moved into a new facility. To ensure crystal clear dialog and first-rate music reproduction qualities for their congregation, church management elected to invest in state-of-the-art StudioLive AI and ULT loudspeaker systems from the PreSonus Commercial Audio Division of Baton Rouge, LA.
Housetop Media of Dallas Texas was contracted to handle the implementation of the church's new sound reinforcement system. Company founder and owner Derrick Jeror, who oversees everything from analysis, sales and system design through installation, training and support, discussed the project and his reasons for deploying the PreSonus StudioLive 328AI 3-way powered loudspeakers and ULT18 powered subwoofers.
"Liberti Church is a non-denominational house of worship with a very contemporary style and a considerable emphasis on music to help keep the congregation engaged," Derrick explained. "They recently moved into their new location, which was previously an office complex. Like most office buildings, their new sanctuary inherited a relatively low 13-foot drop ceiling. As a result, I elected to use two PreSonus StudioLive 328AI loudspeakers specifically because of their rotatable horns. These loudspeakers are flown horizontally over the left and right front edges of the stage area."
"The sanctuary measures 40 fet wide by 70 ft deep with seating for approximately 200 people," Derrick continued. "The stage faces into the length of the room. Thanks to the StudioLive 328AI's unique, rotatable coaxial speaker for mid and high-frequency reproduction and its dual 8-inch low-frequency drivers, we were able to provide proper horizontal and vertical dispersion to ensure even coverage throughout the entire seating area while maintaining an unobtrusive visual aesthetic. The 328AI's 90 by 60° coverage pattern was the perfect match for this particular space."
For low frequency support, Derrick and his crew deployed two PreSonus ULT18 subwoofers. The ULT18 houses a single 18-inch Ferrite LF transducer in a ported enclosure that is driven by a 2,000-watt Class D power amplifier. The two ULT18 enclosures are ground stacked on the left side of the stage. They are time aligned with the StudioLive 328AI mains.
When asked about those attributes that really helped set the PreSonus loudspeakers apart from competing products, Derrick offered the following, "The 3-way design of the 328AI loudspeakers and their powerful, built-in DSP provide very clear and articulate sound without ever sounding harsh even at high volume levels," he said. "Equally noteworthy, the 328AI's integrated Class D power amplification made the entire installation clean and simple. The StudioLive 328AI speakers and ULT18 subwoofers are unique in that their highly competitive price enables churches with smaller budgets to achieve professional grade sound that, just a few years ago, would have never been possible at this price point."
With almost any installation project, questions inevitably arise. In this regard, Derrick was equally complimentary of PreSonus' customer and technical support services, "As a system integrator, PreSonus consistently provides me with the best customer service of any manufacturer I've ever worked with. When I have questions, I know I'll get a response in timely fashion so as not to hold up my project."
With the new PreSonus sound system in place, Derroick reports his client is extremely pleased, "The church staff were blown away by the clarity of sound and the visual appearance of the system. These loudspeakers exceeded everyone's expectations. The drums, which are miked in an enclosure now have a live and clear presence throughout the room. Thanks to the StudioLive 328AI loudspeakers, vocals and guitars exhibit exceptional clarity that just wasn't possible with their previous portable system."