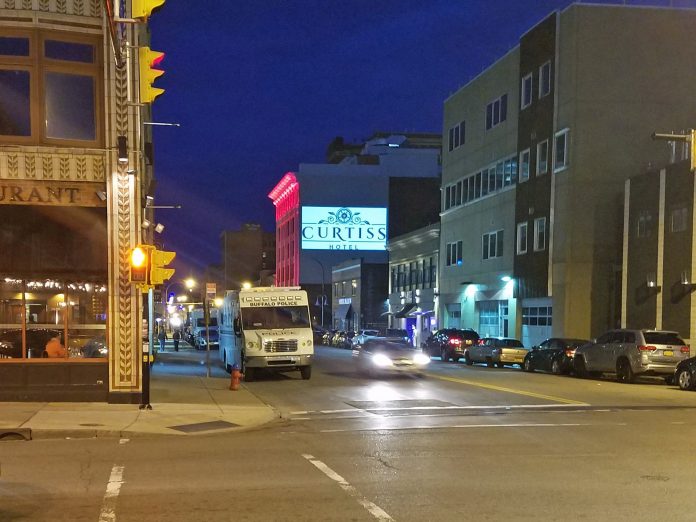 Housed inside the renovated historic landmark, the Harlow C. Curtiss building located at 210 Franklin Street in downtown Buffalo is a 5-star property that has just opened to the public. Featuring 68 ultra-luxurious, high-tech rooms and breathtaking wedding, special event and conference-style meeting spaces, the Curtiss Hotel's amenities are unlike anything Buffalo has ever experienced. Hotel management was searching for ways to keep the community informed of the hotel's activities, but city regulations limited their options. They then discovered the possibilities projection technology from Rancho Santa Margarita, CA-based Eiki International, Inc. made possible.
Veraview LLC of Buffalo, New York, a full-service design/build AV systems integrator focused on collaborative technology solutions for corporate, education and hospitality environments was contracted to design and implement a digital signage solution that could be used to inform the community of the hotel's events. Tom Sauter, the firm's Vice President of Engineering discussed the project and its challenges.
"We discovered early in the project that since the property is a historic landmark, attaching traditional billboards or LED signs to the structure was not an option," Tom explained. "Equally important, the owner also needed a solution with a very small footprint to preserve valuable downtown parking spaces. To address these issues, we installed an Eiki EK-800U 12,000 Lumens / WUXGA / 1-chip DLP large venue projector outdoors at the edge of the property atop a 40-ft light pole. The EK-800U then projects its images onto the side of the building. The projector is used to display digital signage for the promotion of hotel and restaurant activities and events."
Buffalo is, perhaps, best known for its challenging winter weather. Situated on the eastern shore of Lake Erie at the head of the Niagara River, the city's 'lake effect' snow, wind and freezing temperatures are legendary and not necessarily the most accommodating to electronic devices. To address these issues and keep the projector properly protected, Tom housed the Eiki EK-800U in an enclosure from Tempest Lighting, a manufacturer of specialty outdoor enclosures for digital projectors and lighting equipment. It is constantly monitored for temperature and humidity conditions and is heated and cooled year-round.
When queried about those attributes that made the Eiki EK-800U projector the ideal choice for the project, Tom offered the following thoughts, "Eiki was selected for this project because of their reputation for superior image quality," he reports. "Further, the company's willingness to meet with the client on-site to demonstrate the projector prior to installation assured us the owner's expectations for brightness and color accuracy would be met."
For projects of this nature, questions and concerns inevitably arise, so an equipment supplier's reputation for customer and technical support services is crucial. In this regard, Tom reports being very pleased with Eiki's performance as, "Eiki is always a pleasure to work with as both their sales and support personnel are always available to assist us on complex projects such as this."
According to Tom, the equipment was installed between rain showers over a one-week period during April 2017. Since that time, he says the projector is meeting and exceeding his client's expectations. "The Eiki projector is doing a terrific job and our client is very pleased," Tom said. Echoing that sentiment, Mark Croce, the Curtiss Hotel's owner added, "Nothing like this has ever been seen in downtown Buffalo before. The possibilities are endless."