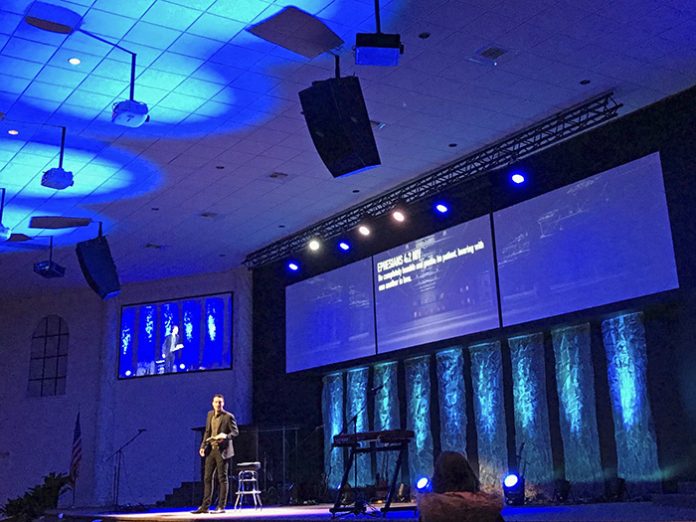 PreSonus Audio Electronics were used by Church of the Crossroads, Corinth Mississippi in September 2017 to deploy loudspeaker technology from the WorxAudio catalog of PreSonus Audio Electronics' Commercial Audio Division. To ensure its worshippers experience is uplifting, church management elected to upgrade the sound reinforcement system in their sanctuary.
Amos McFalls, the Music Director and Associate Pastor at Church of the Crossroads explained: "The new WorxAudio system has changed the game for our services, whether it be during the worship music or the sermon, there is crisp, complete coverage to every corner of the room. We've been extremely pleased."
Sutherland Sight & Sound of Florence, AL, an AV design / build firm that is actively involved in the installation of lighting, sound, and video for churches, sports facilities, conference centres and other commercial entities, was contracted to design and deploy Church of the Crossroads' new sound system. Lane Sutherland, the company's General Manager, discussed the challenges of the project and his decision to place two PreSonus WorxAudio XL5i-P all-in-one, powered, compact line array systems.
Lane explained: "Considering the broad horizontal dispersion factors involved, along with the need for clear, articulate speech and solid music reproduction characteristics, we determined that two WorxAudio XL5i-P line arrays—flown to the left and right sides over the downstage edge—would make a good choice for this particular space."
When asked about those characteristics that made the WorxAudio XL5i-P line arrays the best choice for this project, Lane offered the following thoughts, "With a horizontal dispersion pattern that extends an unusually broad 160 degrees, the WorxAudio XL5i-P provided the side to side coverage we were looking for."
Lane was equally impressed with the customer and technical support he received from PreSonus' Commercial Audio Division. "PreSonus had our backs throughout this project, they were very responsive in terms of answering the various questions that arose during the installation.
"PreSonus was with us every step of the way they were great , the room is effectively twice as wide as it is long, this was extremely important because it made it much easier to ensure consistent coverage no matter where one happens to be seated."