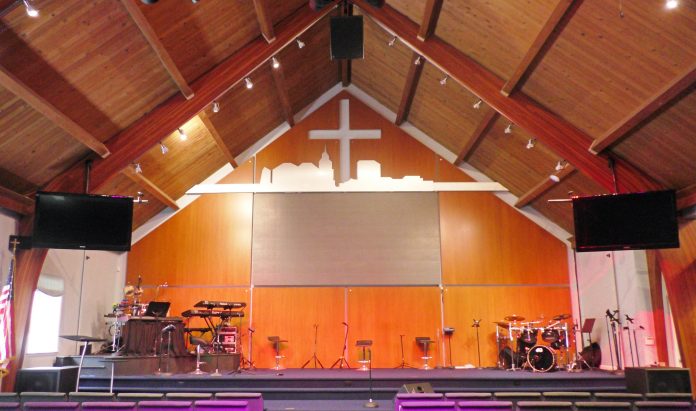 As a non-denominational Christian House of Worship, Bellerose Assembly of God seeks to impact and renew its congregation with the transforming message of Jesus Christ through words and actions. With a casual atmosphere that helps put people at ease, church management wanted to ensure their message was reaching everyone with a high degree of clarity. To address this challenge, they recently upgraded their sound reinforcement system, drawing upon loudspeakers from the WorxAudio catalog of Baton Rouge, LA-based PreSonus Audio Electronics.
Audio Design Group of Ronkonkoma, NY, a design / build firm that is actively engaged in the House of Worship market and also operates production and rental divisions was contracted to design and deploy a new sound reinforcement system for Bellerose Assembly of God. After meeting with church officials to ascertain their goals for the new sound system, company owner Phil Christie designed a system that incorporates a WorxAudio X3i-P all-in-one compact line array, two TL118SSi-P subwoofers, four W-8Ai and two W-12Ai enclosures from the company's Wave Series product group.
Christie discussed the project, "Worship services at Bellerose Assembly of God are contemporary in nature," Christie explained. "With a good-sized praise band and a supporting group of vocalists, music plays an integral role in their services. This activity has been very effective at getting the congregation engaged, particularly the youth. Because of this, it was crucial that the church's new sound system have solid music reproduction characteristics. Church management also wanted to ensure that speech intelligibility was clear and easy to understand. Based upon these requirements, we deemed WorxAudio loudspeakers to be a great fit for this project."
Bellerose Assembly of God's sanctuary measures just over 76ft in length, 37 ft in width and the apex of the ceiling reaches slightly over 25 ft. In addition to the main floor area, there are also lower and upper level mezzanines. To provide even coverage throughout the space, the Audio Design Group installation team flew the WorxAudio X3i-P over the front centre of the stage area while the two TL118SSi-P subwoofers are each positioned in front of stage left and right. The crew positioned the four W-8Ai loudspeakers throughout the balcony and under balcony areas to ensure even coverage while the two W-12Ai enclosures provide overflow coverage in the area adjacent to stage left. The WorxAudio X3i-P and TL118SSi-P subwoofers are self-powered systems. Amplification for the remaining passive loudspeakers was handled by the existing QSC PL series amplifiers.
"During the design phase of this project, we consulted with the PreSonus Commercial product team," Phil reports. "We explained that music reproduction and speech intelligibility were both important considerations. The recommendation of the loudspeakers we used proved very effective. WorxAudio line array systems are known for their broad, 160° horizontal dispersion and the X3i-P proved to be a great fit for the centre hang. We were also very impressed with the X3's rigging hardware. It's well designed, easy to use and this made the installation go very smoothly."
Christie noted that the PreSonus Commercial product team assumed an important support role during the design and installation phases of the Bellerose Assembly of God project. "PreSonus' customer and technical support team was very helpful," he said. "I was particularly impressed at how responsive they were when getting back to me on items that needed clarification."
The Bellerose Assembly of God project was installed and placed into service during May 2017. Since that time, Phil has received numerous compliments. "The new loudspeaker system is performing very well," he said. "Church officials have been very complimentary, as has the congregation. The music sounds more natural and vibrant than ever and no matter where you happen to be seated, dialogue is clear and easy to understand. It's really been a win-win for all involved."