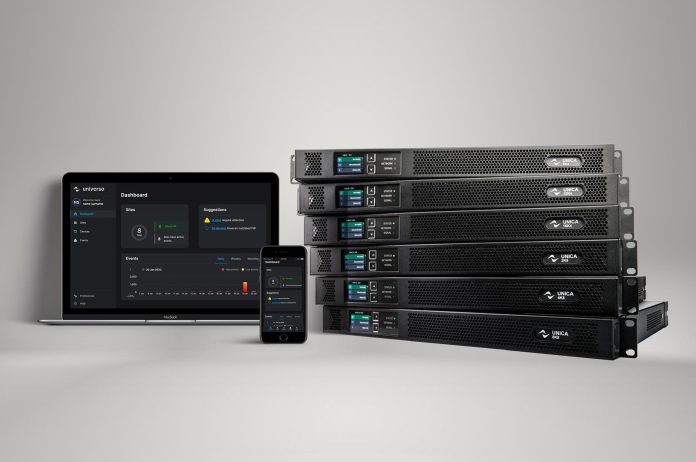 Further to its successful introduction to the European, South-East Asian and North American markets, Powersoft will be presenting its much anticipated cloud-based platform, Unica and Universo, at InfoComm China 2023 from the 19th–21st July 2023, China National Convention Center, Beijing.  The new generation platform from the Italian audio expert will be presented during a special event at the EZPro booth (Hall E, stand EE4-01) on the first day of the show at 2:30pm.
EZPro, Powersoft's historical representative in China, is the country's official distributor for the entire Powersoft range of products and solutions, including Mover, Mezzo and Dynamic Music Distribution, as well as the dedicated rental staging (T Series, X Series) and fixed installation (Duecanali, Quattrocanali, Ottocanali) ranges.
  The official presentation will be hosted by Miao Wang, Powersoft's Solution Engineer, together with Xiang Ji, EZPro's senior director of marketing, who will be demonstrating Unica's versatility, and in particular its ease of integration, configuration and upgradability, as well as low operating and maintenance costs.
Attendees will also be able to discover first-hand Universo, Powersoft's intuitive and ever-expanding Cloud, which boasts seamless integration with ArmoníaPlus and remote site management using multiple profiles.
  Also on hand will be senior management figures from Powersoft, including Sales Director Luca Giorgi, as well as co-founder and CEO Luca Lastrucci, giving an opportunity to InfoComm China attendees to learn more about the innovative technologies that have helped shape the professional audio industry.   Unica is Powersoft's most advanced amplifier platform to date and is supported by Universo, a groundbreaking Cloud-based platform that allows users to store and access their projects as well as live monitor systems, run diagnostics and fix issues remotely.
Leveraging next-generation cloud-based technology to provide high sound quality, efficiency, and power density, Unica offers a reliable and consistent user experience for installations of any size and degree of complexity.
  "We are extremely excited about the innovative technologies embedded in Unica and cannot wait to put this highly advanced platform before the Chinese market.
"Unica, together with the Universo cloud platform, will bring benefits and convenience not only to technical engineers but also to end users in terms of higher efficiency and lower cost of system operation and maintenance," commented Ji.
  Abby Hu, Powersoft's chief representative officer in China, enthused: "After seeing the formidable level of interest and excitement sparked at international trade shows over the past few months, we are very excited to finally debut Unica and Universo in the Chinese market."   On the EZPro stand, visitors can also discover Powersoft's extensive range of fixed installation amplifiers, Mezzo, Duecanali and Quattrocanali, as well as touring amplifiers X-Series and T-Series; how to control sources, zones and scenes using the WM Touch; and the popular Dynamic Music Distribution (DMD) system, enabling system integrators to easily scale inputs and zones with dynamic routing capabilities to deliver clean and cost-effective power for multi-room distribution.
There will also be a plank for visitors to experience the 4th-dimension tactile transducer, Mover.