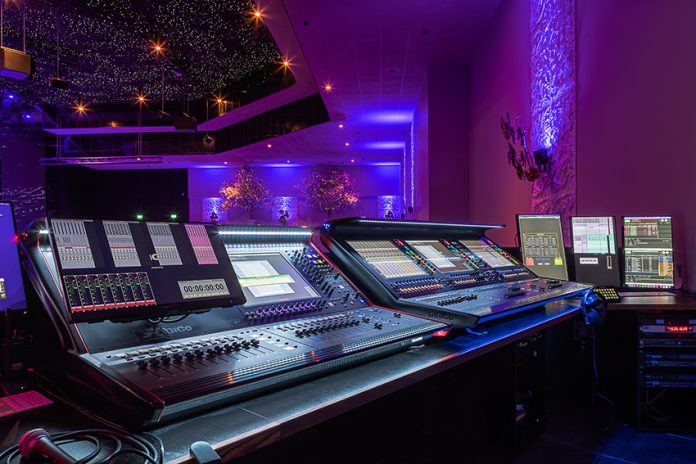 One of the UK's longest-running leisure operators, Potters Resorts, has recently completed a multi-million-pound refurbishment of the luxury Five Lakes resort in Essex, which it purchased in 2021.
The improvements include a new leisure complex, upgrades to numerous existing facilities and the repurposing of a former sports hall into the Glade Theatre, a multi-functional performance space equipped with state-of-the-art sound, lighting and video systems.
Already an established DiGiCo user (the theatre at their original site in Hopton On Sea features an SD10), following consultation with Autograph Sound the company chose two DiGiCo consoles for the new facility, a Quantum 338 for FOH and a Quantum 225 for stage monitoring.
Autograph subsequently supplied the two consoles plus two SD Racks fitted with the new 32-bit SD cards and an Optocore fibre network.
The FOH console is also fitted with a DMI Dante card which provides connectivity for playback and to the DSP-controlled amplifiers which power the new d&b audiotechnik loudspeaker system.
The 650-seat theatre is perhaps one of the hardest-working in the country, as the company stages a near-continuous programme of entertainment.
Autograph's Adam Broom commented: "The entertainment is amazingly varied and very busy with frequent performer changes, often with rapid changeovers, so much of the design at Five Lakes was geared to making that as easy and reliable as possible for the technical team.
"For instance, the loudspeaker system is zoned and configured such that it can be switched instantly between modes depending on the production and room layout. From an audio mixing and flexibility viewpoint, the Quantum engine in both DiGiCo consoles and the advanced feature set it facilitates was a major factor in choosing them for this project."
Lawrence Chandler is Group Technical manager for Potters Resorts and illustrated the value of the DiGiCo Quantum consoles:
"The Glade Theatre at Five Lakes operates seven nights a week, working mainly with our own in-house theatre company and presenting everything from cruise ship-style rock and pop 'Best Of British' cabaret through to Broadway / West End style productions, spoken word, stand up comedy and even conferences and corporate events.
"We work our systems hard due to the sheer volume of work and range of styles, but the array of tools available in the DiGiCo consoles means there's nothing they can't handle – we literally never find ourselves looking for a feature that isn't there."
A great example of the Quantum advantage is Nodal Processing. Lawrence continued: "As our cast are all on in-ears, this feature allows vocalists to get a level of clarity and precision that simply isn't available anywhere else.
"Performers can ask for pretty much anything in terms of their own mix – in fact, we even sat down with them and explained the features so that they understood how much they can ask for – and we can make it happen for them because Quantum has that extra bunch of tools."
Switching quickly between performers and styles of performance is key, too. "The ability to completely restructure the console's engine to suit our needs as they change between styles of performance is fabulous – going from, say, 20 sets of in-ears to needing a ton of reverbs is fast and easy," Lawrence concluded.
"I've often thought that the only time you realise the full potential of a DiGiCo is when you have to use something else!"