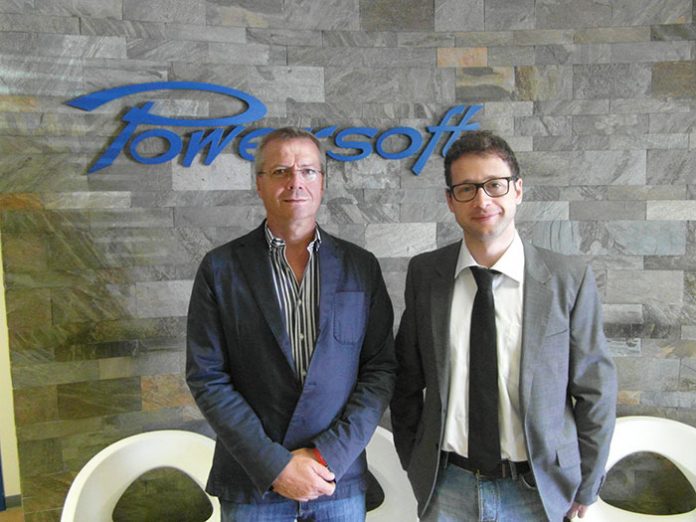 Following a year of outstanding success, Powersoft has emerged from the summer recess by announcing a new-look sales force, boosted by two key appointments.
According to the company's Pro Audio Business Unit Manager, Luca Giorgi: "This is part of an expansion strategy which will give us valuable new resources as the new season gets underway."
Stefano Previtali takes on the role of Regional Account Manager, EMEA, with responsibility for Touring and Install, while Fabio Lanini is new Sales Account Multimedia Solutions, responsible for the DEVA product line. They join forces with another recent recruit, Massimo Minardi, who arrived at the company a year ago as Sales Manager, OEM and M Systems.
With a strong background in Pro and MI, Stefano is well qualified to take on his international role. Having been involved in selling Powersoft amplifiers as part of a package for Proel Axiom line array he is not only familiar with the products but also many of Powersoft's distributors.
He joins the company from InMusic, where he represented their huge pro brand portfolio in more than 20 countries, and prior to that was Customer Support Manager at Music Group, where he developed an enviable sales track record.
Of his new role, Stefano stated: "I saw it as a great opportunity to participate in the success of a leading company that bases its strategy on Intellectual Property. This is a really strong point and gives me a lot of pride.
"My aim is to bring added value to a company that is growing so fast, and then to communicate these values to the largest possible number of customers who require our advanced technologies. I hope to make partners feel part of the Powersoft family and find technical solutions wherever they are required."
Territorially, his role will encompass most of the European territories, while colleague, Karl Kahlau will retain Germany, Scandinavia and some related countries.
In closing, Stefano said: "From the very first contact with the company I could see the transparent and professional way in which they engage, and support, our partners. This approach, together with their unique and advanced technologies, suggests that we are unbeatable on every level…this gives me a feeling of immense satisfaction."
As for Fabio, his background is in the PC board industry with widespread experience in the US. On his return to Italy, Fabio was introduced to Powersoft and jumped at the opportunity to take up a newly created position linked to the DEVA product, which will lead the company further into the multimedia sector.
"Coordinating the sales and inherent developments that arise from entering a new market represents a real challenge. In the long run DEVA will prove to have been just the beginning, and as we expand the sales pipeline further into export markets, we aim to satisfy high demands of mass production with other solutions," said Fabio.
"I am so pleased to have joined Powersoft," he concluded. "Principally because the spirit that characterises this company is evident from the second you walk through the door. Constant innovation and the drive to continue pioneering new technologies is central to their ethos, and DEVA represents just the start of this in the multi-media world. I think it's going to be a fun ride."
As for Massimo Minardi, he is another with vast swathes of experience, having worked as a sound engineer for rental companies and later as a product specialist for leading brands in Italy before becoming product manager and later R&D engineer for an Italian loudspeaker company.
"Powersoft were looking for someone with loudspeaker experience to be mainly involved in selling the M-Force series worldwide in a role comparable to these of a product manager," he said.
"In addition, I'm in charge of OEM sales (of amp modules) in Asia. The Asian market is quite new for us, and it is a great challenge.
"What is really exciting for me is the incredible amount of technological innovation brought to the market and how much is planned for the future! I consider this to be unique at the present time. Therefore these are great opportunities in a company that is growing so quickly."
In conclusion, Luca said: "We are delighted to have recruited such experienced people. "Massimo has already made a huge impact, while our EMEA sales are in safe hands with Stefano. Finally, we have been able to find a resource to handle a technological product like DEVA that requires different skills and potentially takes us into target markets other than those we are generally focused on."