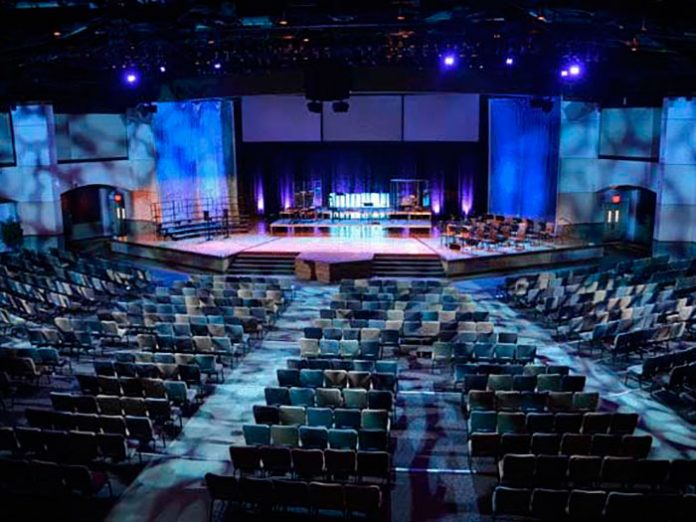 Henderson Hills Baptist Church (HHBC), located in Edmond, Oklahoma, recently undertook a large renovation of the lighting in their worship centre, and relied on High End Systems automated lighting products to update the visual side of their worship experience. Lighting contractor Barbizon installed 16 Solaspot CMY Pro and 10 Solaspot 1500 fixtures along with a full lighting package in the venue.
HHBC's Director of Media Arts Michael Scott explained the timeline and scope of the renovation: "Our facility is eleven and a half years old, and from a technical standpoint we knew several years ago that it was time for a lighting upgrade. From a budgeting standpoint it took a while to get things going, but we were finally able to get that going for Summer of 2015. Back in February, we decided to attend the PLASA Focus regional event in Orlando, Florida. We already kind of had a number in mind for the budget, and we checked out all the big vendors' fixtures to get a feel for what they could do. We stopped by High End System's booth, and saw the Solaspot. That's when the Solaspot line was fairly new – neither of us were familiar with it – but we were very intrigued and interested."
Michael continued: "After we were home from the show we set up a demo shootout; we work with Barbizon, and Chris Boyd is our contact. The shootout included the Solaspot fixtures along with several other automated lighting manufacturer's products. After we looked at the features of each product, we decided that between the two Solaspot fixtures – the 1500 and the CMY Pro – that's the way we wanted to go. By late March we had our decisions on moving lights and started to put our system proposal together. There were lots of other components that went into it – it was a entire system upgrade from a fixture standpoint, but we didn't replace any infrastructure. We replaced all of our conventional fixtures, and then bought several LED PARs and strips, but from a moving light standpoint we were set at that point."
Asked what HHBC likes most about High End's Solaspot fixtures, Michael enthused: "The light output was incredibly flat across the entire field. The colours are fantastic. And with the CMY flags in the CMY Pro, we've greatly expanded our colour capabilities and overall performance options. We also particularly like the shapers in the Solaspot 1500s. We really wanted to have some fixtures with shapers in the room. At the time, this was the only fixture with shapers and an LED engine.
"Finally, the gobo rotation in both fixtures is amazing. We can get to an incredibly slow gobo rotation that is perfectly smooth, and with other fixtures when we got them to their slowest point it was jumpy, so that smoothness and slow rotation is very important in the church market. You can get a ton of little subtle things from these lights, and that was a big point for us. The light output from the 1500 is just incredible, and we love the feature set of both fixtures."
Barbizon installed ten of the Solaspot 1500s out at house positions. Michael explained: "We use those fixtures for accent lighting on our walls, and we can backlight the entire congregation of the room with just those ten fixtures. We can have various looks coming off of the stage out into the house, and in a pinch we can use them for front light specials if we don't have time to focus conventional fixtures. The 16 Solaspot CMY Pros are in our lighting grid above the stage for backlight, texture and colour on stage and those sort of effects. We're not a rock concert church, as in we don't do concert lighting in our services, but I'm very big on the use of colour and texture in what we do, and these fixtures have given us the flexibility to do that. We do three services each weekend but they're identical visually – we don't do multiple styles, which is one thing our leadership really values. We're not looking for 'flash n' trash', we're looking for reliability and ease of use. We need consistency from service to service, and the ability to express our creativity without drawing attention to the lighting."