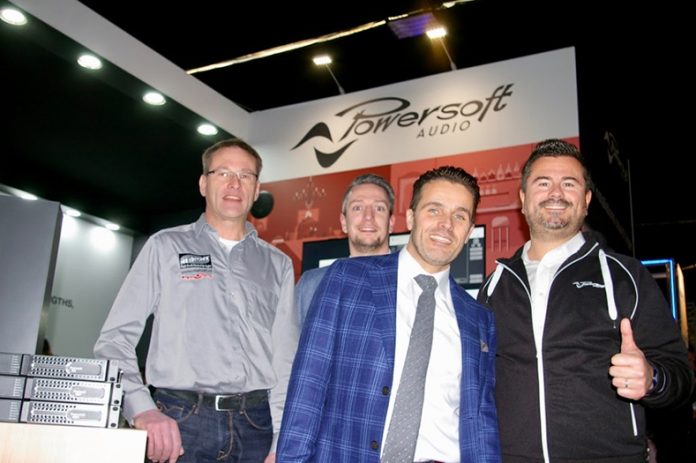 Powersoft has announced the appointment of Mennegat Trading BV to its distribution network. Mennegat will promote Powersoft's lightweight, high-power, energy efficient fixed install and rental staging series of amplifier platforms across the Netherlands. The company brings 20 years of experience and a dedicated focus on audio solutions.
Mennegat Trading is the leading distributor of professional audio equipment in the Dutch region, operating through a strong partner network of integrators and installers. The company supplies 100 of the best Dutch system integrators and contractors in key market sectors that include corporate buildings and sports venues. The company also supplies wholesale to AV rental companies and electrical installers.
Powersoft's ESA regional account manager, Stefano Previtali, explained: "Mennegat has a very personal approach and the relationship has been rewarding from the start. Yet, the decision to work with Mennegat stems from three main factors. First, the company is focussed on specific brands that complement our rack amplifiers. The positive consequence is a high quality of communication. Mennegat delivers in a fast and professional manner and ensures everything is on hand to support its partners and its brands.
"Mennegat also invests a lot of time and resource into training, a valuable activity for our advanced platforms in many markets. The final deciding factor is the company's promotional activity. Mennegat supports an interesting network of regional distributors and this revolutionary approach grants quality and common goals to the entire process."
Mennegat's marketing director, Ferdi van den Berg, stated: "Mennegat is the exclusive distributors of Apart Audio and Community Professional in the Dutch market, and we were looking for an amplifier brand capable of handling high-power applications. The multi-zone installation projects we deal with require flexibility in installation, economic use of power and optimal third-party integration, and Powersoft's Duecanali, Quattrocanali and Ottocanali Series' meet these specific needs. One major benefit that is bringing a big opportunity is the ability to individually select channels at either 100V or low-impedance. Powersoft as a Green Audio Power technology is another, giving us access to tenders where high importance is given to sustainability and power waste. For these reasons as well as the connectivity with ethernet connections, Dante interface and drivers for third party manufacturers such as Q-Sys, Crestron and AMX, Powersoft is the perfect product for our mix."
"The philosophy of Powersoft Audio responds to our approach to target vertical markets. Values of sustainability, sound quality, safety and innovation are very important to end-users. Powersoft offers these values in perfect product solutions to fill these demands."
Previtali concluded: "Powersoft's philosophy is about 'making ordinary extraordinary', and Mennegat Trading perfectly aligns with this, so we very much look forward to working with them."