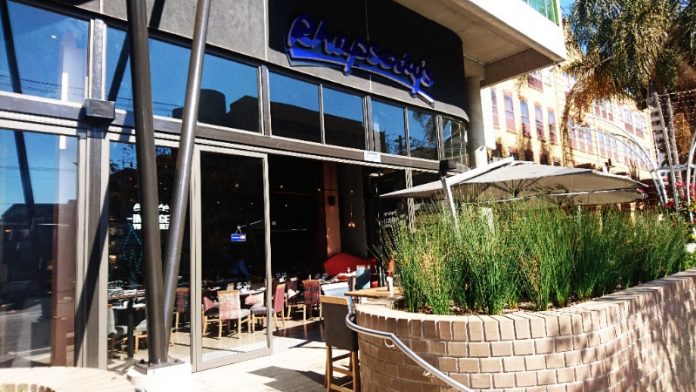 Surgesound has carried out its first installation project for the Rhapsody's Group bar/restaurant franchise in Hatfield, Pretoria. They specified a single Powersoft Ottocanali 4K4 DSP+Dante amplifier to power a total of eight EAW SMS5 loudspeakers divided into four areas inside the main restaurant area.
The Powersoft distributors had been introduced to the client through one of their rental company partners who look after the nearby venue and are themselves a loyal Powersoft X4 and EAW JFL Series user. The operators were seeking a system that could accommodate standard playback of background music and televised sport but equally be able to accommodate a low-key DJ setup or one-man-band plug-in. Surgesound responded by supplying three auxiliary plug-in points.
The company's Product Manager, Ruan Joubert, confirmed that the client wanted peace of mind that the new system would not only sound great and be protected but also comply with sound regulations affecting the nearby residential area. "From a system design perspective we needed high fidelity audio and control throughout the different areas of the restaurant. The Powersoft Ottocanali DSP was the ultimate all-in-one solution for the job." The Ottocanali 4K4 DSP+D offers a wide range of system control and monitoring functions as well as sound shaping options, a total of 4,000W output power at 4 ohm over 8 channels for lo-Z or distributed line systems. And with two redundant Dante digital streams, the Ottocanali 4K4 DSP+D will fit any venue as a 'stand-alone' unit, making it ideal for multi-zone applications such as this.
In Pretoria, in addition to the SMS5, including two 10-inch loudspeakers installed in the Mezzanine/Smoking area, three EAW SMS4 loudspeakers are installed in two outside areas. An FBT MMZ8004s Zone Control unit provides the client with an uncomplicated signal management solution.
Summarising, Ruan Joubert stated, "We are always impressed with the combination of EAW and Powersoft. Even in an unassuming project like a restaurant, the sound quality and performance is everything we expected and more. The client was also impressed with the coverage of the different areas and the overall sound quality."