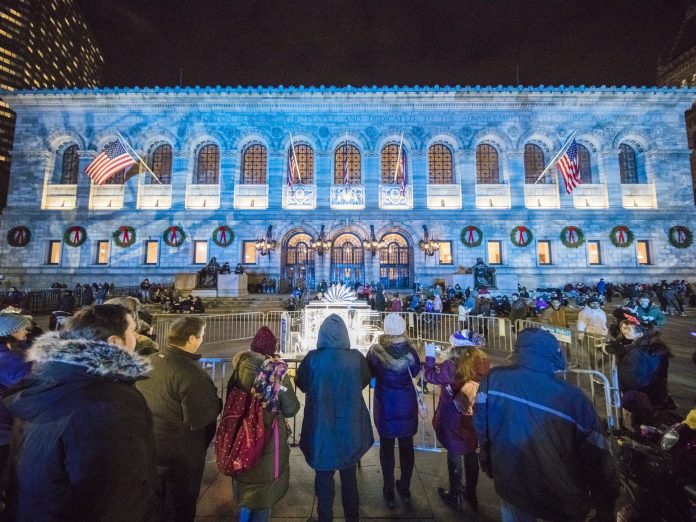 Boston is a town with fantastic traditions and one festive custom that Bostonians have enjoyed since 1975 is First Night Boston, New England's biggest New Year's Eve celebration. Produced by Conventures, Inc., this past season's festivities were lit by Port Lighting Systems using Elation weatherproof luminaires. First Night Boston is an event the New Hampshire-based lighting specialists have worked for many years.
First Night Boston may be a one-day affair but like any large event, it is a multi-day setup. As veterans of First Night Boston and other outdoor events, Port Lighting Systems knew the secret to its success would be carefully selecting equipment and crew. "We tapped team members with experience lighting in all weather conditions, and chose a combination of outdoor-rated fixtures, equipment designed to protect fixtures from the elements, and back-up gear should anything fail," said Port Lighting's Graham Edmondson, who served as Production Manager on the project.
Port Lighting Systems also designed all the lighting looks for the event, which included a light show in Copley Square along with illumination of the Ice Pavilion, the mainstage in front of Trinity Church Boston, the facades of the surrounding buildings, and the midnight countdown clock. "In the past, we've projected patterns onto the Fairmont Copley building in Copley Square and the Boston Public Library," Graham explained. "This year we wanted to add a base colour layer to the buildings as well."
With the express goal of bringing energy and excitement to the New Year's revelry, no matter the weather conditions, Port Lighting turned to a lighting system that included Elation IP65-rated luminaires. "It was great not having to worry about fixtures getting wet or exposed to the elements. While this year was relatively mild, we had a couple of days of freezing rain and high winds, and all of the Elation fixtures had no problems in the elements," stated Graham, noting that winter weather in New England can range from polar vortex to wet monsoon conditions.
To light both the Boston Public Library and Fairmont buildings, Port Lighting erected a series of truss towers. The company owns 48 Elation SixPar 300IP colour-changing fixtures and have had great success using them for similar projects in the past, according to Graham. "These fixtures had a throw of 100'-150' and provided bright, bold colours on the buildings." Colour washing the Fairmont were 16 SixPar 300IPs working with some weatherproof moving head fixtures while 24 SixPar 300IPs coloured the Boston Public Library. "The SixPar 300IPs were fantastic. We were concerned about the long throw reading in a downtown atmosphere even at night, but were really pleased."
Port also wanted to use IP rated moving head fixtures to light the Boston Public Library rather than using domes as they have in the past. Their choice for the Boston Public Library was 6 Proteus Hybrid multifunctional moving heads to project gobos onto the building, with 4 Proteus Beam fixtures used for aerial beam effects. "The zoom range of the Proteus Hybrids was great, and the speed of the Proteus Beams really allowed us to do some fun aerial effects," Graham commented.
A series of seasonal looks changed throughout the evening to the delight of the crowd and with the use of dynamic elements like changing focus, gobo rotation and aerial effects, the projections were kept visually vibrant. Several looks came out particularly well on both buildings, says Edmondson, especially the scenes with snowflake gobos. "Obviously it's winter in New England and while there wasn't any snow on the ground, it felt really festive to be in Copley Square surrounded by snowflakes," he concluded.