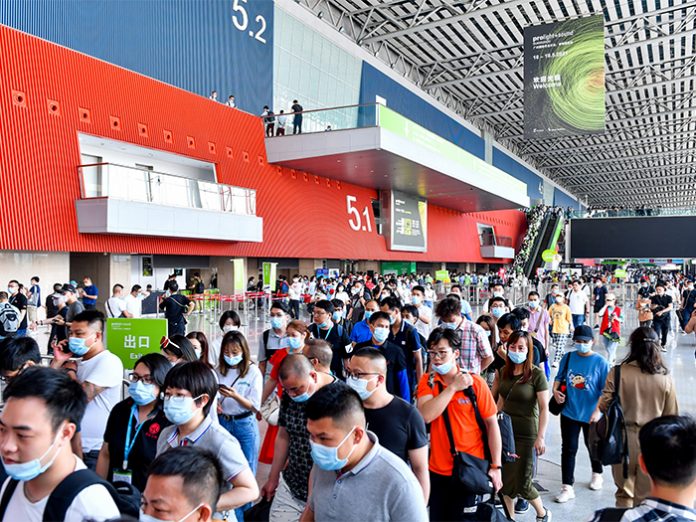 The largest pro lighting and audio show in China, Prolight + Sound Guangzhou (PLSG), is edging nearer and nearer as it gears up to celebrate its 20-year milestone. As one of the few physical events of its kind scheduled, the 20th edition will be held from 25 – 28 February 2022 in Areas A & B, China Import and Export Fair Complex in Guangzhou.
While exhibitors at the fairground can make in-person interactions with industry professionals, the organisers are also offering virtual network options in response to the new hybrid era. Ms Judy Cheung, Deputy General Manager, Messe Frankfurt (HK) Ltd said "We really hope to welcome our overseas buyers back to the fairground, but due to the current pandemic situation, we are allocating more resources towards digital tools. Our business matching service can maximise new relationships for exhibitors and buyers and we hope to bring the industry closer together through this channel."
On the ground in Guangzhou, more than 1,000 manufacturers and suppliers will showcase a wide array of pro lighting and audio products and solutions in 140,000 sqm of exhibition space. Key local industry players and globally renowned brands will present both cost effective and state of the art products that will not disappoint, including ACE, ACME, Allen & Heath, Audio-technica, AVCiT, Avid, BBS, Biamp, BMB, Bosch, Bose, Charming, Concore, D&B Audiotechnik , DAGE, DAS Audio, DMT, Eagle Truss, EAW, EM Acoustics, ENEWAVE, EZ Pro, Fidek, Fine Art, Funktion One, Goldensea, Gonsin, GTD, Haimei, Harman International, High End Plus, Hikvision, HTDZ, IAG, ITC, Kling & Frietag, Lewitt, Logitech, Longjoin Group, Martin Audio, Mode, Montarbo, Neutrik, Omarte, Pioneer, Polar Lights, QSC, RCF, SAE, SE Audiotechnik, Sennheiser, Showven, Shure, Star-net, Taiden, Takstar, Tico, Tonwel Audio, TW Audio, VLINC, Yamaha and more.
According to Ms Cheung, the organiser's digital tools will bridge the gap to overseas buyers, who will have the opportunity to source from Professional Lighting, Professional Audio, KTV, Parts & Accessories, Communication & Conferencing and Multimedia Systems & Solutions. "The Business Matching Service is a bilingual, pre-booking appointment services free for all trade buyers, which bases its recommendations on business of interest to provide a tailor made service to participants."
Exhibitors can take advantage of this online platform and present their profile and products to global stakeholders online. Global trade professionals can also use the service to discover the latest market information and connect with exhibitors that match their business needs.
The specifics of the Business Matching offerings include:
A comprehensive platform to connect potential business partners across the world
Source products / partners 24/7
Smart recommendations based on personal preferences and interests
Full profile of shortlisted companies for preview to ensure a tailored match
 Invite and schedule meetings without quota
Real-time online chat prior, during and after the physical exhibition
To register click here.