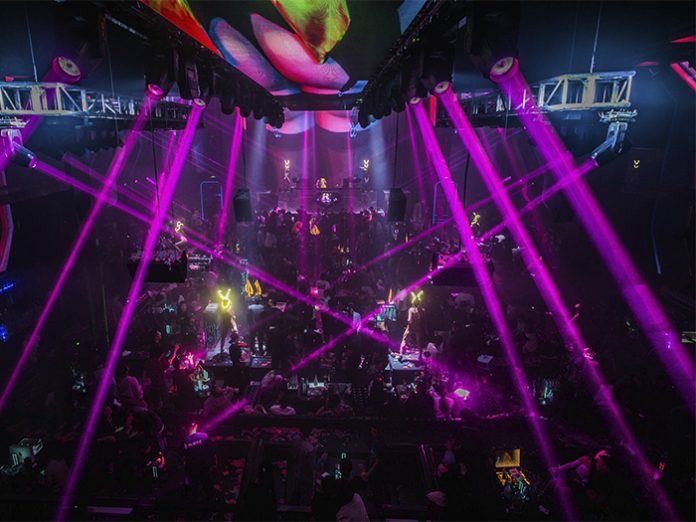 Located in Yinchuan capital city of the Ningxia Hui Autonomous Region in China, ALIEN•C has become the first nightclub in a series of massive venues throughout the country to feature a full PK Sound loudspeaker system. The 37,000-square-foot club features a roughly 11,000-square-foot main floor powered by two hangs of Trinity 10 line arrays, a separate VIP room, and several karaoke rooms — all of which are powered by PK.
Distributed by Beijing-based Polar Audio, PK Sound loudspeakers have continued to deliver a top tier quality of sound since ALIEN•C opened its doors on November 18, wowing local club-goers and visitors to the city alike, with sets accompanied by a stunning array of lights and onscreen visual displays.
"They have a huge visual component to this club which needed to be taken into consideration when designing the sound system," said Trevor Grenier, Senior Accounts Manager at PK Sound. "We needed it to still sound amazing without hindering their impressive video display.
"PK was a great choice because of our high SPL. It's a giant night-club, with a very large main room, so the Trinity 10 line array was a good choice for that space to get coverage all the way to the back of the room. With the Trinity 10, we were able to put up a very compact, clean-looking PA system that didn't bury their giant LED walls."
Powerful sound from floor to ceiling
Unlike many clubs in North America, Chinese mega-clubs like Yinchuan's ALIEN•C design their sound systems to cover the entire length, from wall to wall, rather than focusing most of the sound on a relatively small dance floor in the middle.
"We had to have a consistent and even pattern all the way through the venue because everyone is generally sitting down or dancing at their tables," Grenier said. "It's quite an interesting scenario compared to a North American-style club, where you're focusing all your energy on the 1,000-square-feet where everyone is hanging out.
"In these Chinese clubs it's literally front-to-back, side-to-side, top-to-bottom – filled with people," he added. "They don't move from their general locations very often, so it can be a bit of a challenge, but we were able to attain a good and consistent energy throughout at ALIEN•C."
In addition to the two main hangs featuring seven Trinity 10 boxes per side, ALIEN•C fills out the sound using four CX800 and six Klarity 12 speakers for delays throughout, as well as four Gravity 218 subwoofers. PK Sound also supplied ALIEN•C's monitor system, which boasts Klarity 12 and Klarity 218 speakers, as well as the VIP room's four CX215 and four CX800 loudspeakers.
Polar Audio's Hawking Yuan said that in addition to its mesmerizing visual display, the PK Sound loudspeaker system makes ALIEN•C stand out from other nightclubs in Yinchuan.
"The Trinity 10 line arrays sound clear, transparent, and aggressive, while the Gravity 218 subwoofers surround the audience with a full bass sound," he said.
Now outfitted with a system capable of throwing sound from the main floor up to its 80-foot-high ceilings, ALIEN•C entertains a packed house of partygoers on a nightly basis. With the success of this first club featuring PK Sound, Polar Audio looks forward to the next series of clubs they plan to outfit with PK Sound loudspeakers.