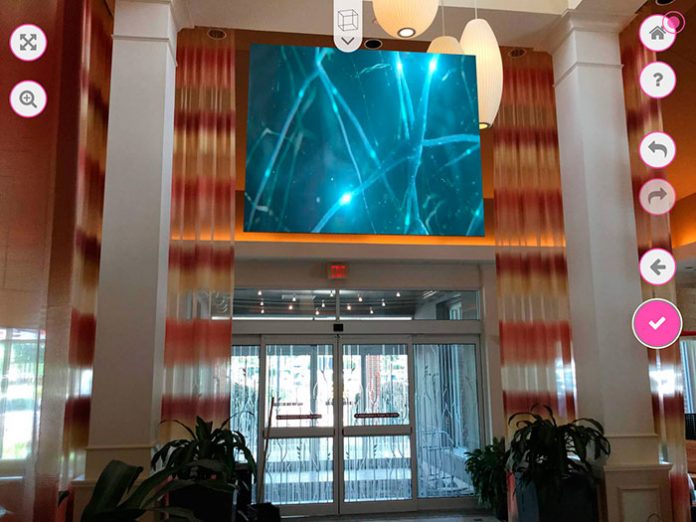 In an effort to offer their clients an even greater understanding of how LED video can transform any environment, the award-winning LED video manufacturer PixelFlex is proud to announce a new partnership with SpaceView.
As an Augmented Reality technology, SpaceView transforms the way commercial construction and renovation design teams collaborate and visualise their creations by providing near-instantaneous and accurate product installation renderings. Operating across all Apple, Android and Microsoft OS platforms, PixelFlex customers will now be able to virtually experience their LED video creation in true-scale with the simple drag-and-drop of a photo.
"
Our goal at SpaceView is to help our customers communicate a realistic vision of what they can do for their clients as easily and quickly as possible," began SpaceView co-founder and VP of customer success Cody White.
"
Since our clients are the experts in their particular field, we want to enable them to build their customers dreams without the visualisation breakdown that previously existed. Now when a sales representative is visiting a job site, they can use the SpaceView technology to give their client a true-to-scale, visual experience that is as easy as taking a photo and selecting which PixelFlex LED video technologies to drop into the design."
A mobile Augmented Reality technology platform, SpaceView visualizes real-world products in any space helping companies improve their sales process by providing a near-instantaneous rendering of the proposed product solution in the venue. The SpaceView system currently works on all mobile and modern browsers for Apple and Android operating systems.  The company is beginning development for Microsoft HoloLens and the Oculus Rift technology platforms.
"
Using the SpaceView technology, we are now able to provide a definitive proof-of-concept to all of our customers giving them a greater confidence in their LED video decision-making process," said David Venus, PixelFlex Director of Marketing.
"
The SpaceView app is a differentiator for our sales process by providing actionable information that will assist our sales reps in the field with calculations such as power draw, weight, wall dimensions and pixel resolution, while also helping our customers make the optimal purchasing decision for their unique LED video designs."