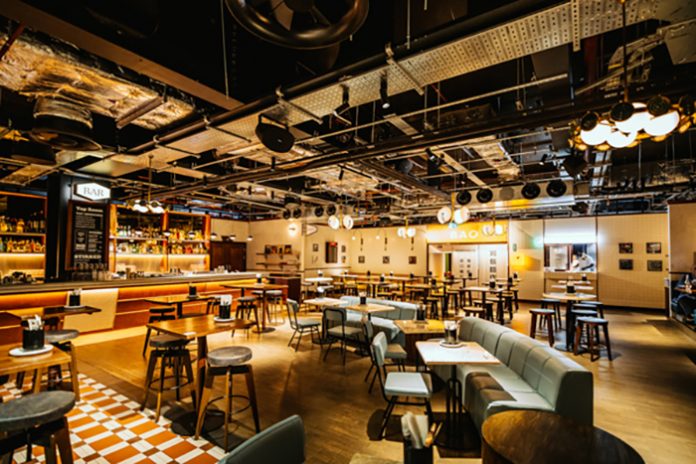 Taking its inspiration from street market culture, the recently opened Arcade Food Hall at the restored Battersea Power Station has seating for 500 customers within its 24,000 sq ft. The space is multi-functional, hosting a wide variety of events; therefore, premium audio was an absolute essential for Arcade. Integrators HD Pro Audio (part of Marquee Group) were brought on to carry out the audio restoration, designing and installing a suitable system.
HD Pro Audio had previously carried out interim work and programming updates on Arcade's existing Tottenham Court Road venue. The Battersea project followed directly from this work, with a brief to provide a high quality system that could deliver an impactful audio profile able to cater to DJ sets, live music, and background music. A Pioneer PRO AUDIO system was chosen to meet the challenge.
Andy Huffer, Project Manager for HD Pro Audio commented: "There were strict noise levels to consider, both within the Power Station site and in terms of neighbouring tenants. I wanted to try and stay with one loudspeaker brand across the site, which we did. We drew from a range of Pioneer PRO AUDIO speakers, from compact 4.5" commercial surface mounts to large- scale, wooden 12" two-way professional grade units and 18" subs."
The bulk of the system at Arcade Battersea comprises more than 40 Pioneer PRO AUDIO CM-S58T 8 inch surface mounts, each attached to the exposed ceiling beams and cable trays in the roof space. This arrangement minimises the need for any one loudspeaker to throw more than about four or five metres.
Huffer continued: "The CM speakers offer exceptional performance at their price point and in conjunction with the Symetrix processor and Powersoft multi-channel amplifiers connected via the Dante audio networking protocol, allow highly granular level control across the entire venue. This enables the sound profile to be shaped within the guidelines laid down by the landlord, without compromising the sonic level, warmth and clarity of a DJ-driven venue."
Huffer concluded: "I was very pleased to see this project through from inception to opening night, and receive extremely positive feedback from the clients. Once again, we were able to deliver a project on time, on budget, and whilst maintaining our core design principles."
The whole system at Arcade consists of 42 CM-S58T-K (8" surface mount), six CM-S54T-K (4.5" surface mount), two XY-122 (12" two way, full-range), 2 XY-118S (bass reflex subwoofer), and one XPRS10 (10" full range active). A Pioneer DJM-900NXS2 digital mixer and CDJ-3000 professional multi-player completed the picture.