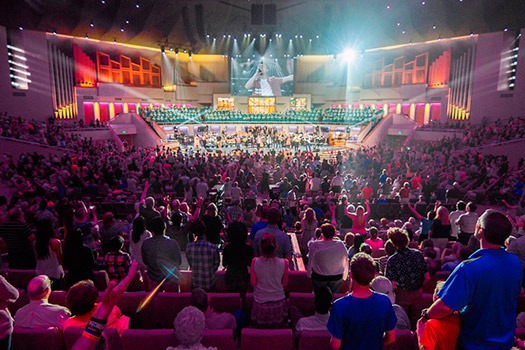 First Baptist Orlando has grown into a congregation of over 16,000 members who worship in a sanctuary with approximately 5,500 seats. When the church recently underwent a renovation, lighting designer Anthony Rush was asked to identify the ideal lighting fixtures that could offer the weekly worship services and annual special productions alike the most versatile lighting rig possible. Working with the Orlando office of Stage Equipment and Lighting (SEAL), Rush looked at a number of fixtures which might have the functionality, dependability and versatility needed, and in the end, he decided upon VL4000 Spot and VL4000 BeamWash luminaires from Philips Vari-Lite.
"I've been on staff at First Baptist Orlando since March 2013 and ever since I started in the lighting industry, I've been a fan of Vari-Lite luminaires," stated Anthony. "When the church decided to undergo a renovation earlier this year, I had been attending new product demos at the various dealers across the area and each time I saw the Series 4,000 luminaires I would see something new. Because of their versatility and knowing the dependability of a Vari-Lite luminaire, we got in touch with SEAL and were able to purchase 12 VL4000 Spot and 12 VL4000 BeamWash luminaires." said Anthony.
The Series 4000 automated luminaires are the latest generation of Vari-Lite luminaires designed to provide lighting designers worldwide with a complement of fixtures offering unlimited design possibilities. Both the VL4000 Spot and VL4000 BeamWash luminaires utilise the patented Infinity Colour Mixing System to provide incredibly smooth colour changes and instantaneous colour snaps while also featuring dual five-position fixed colour wheels with variable colour correction to further add to their unique colour abilities.
"I was initially satisfied that the VL4000 Spot was a perfect solution for us as it seemed to combine all the performance attributes of the VL3000 Spot and VL3500 Spot into one fixture," added Anthony. "You have shutters, an iris, two rotating gobo wheels, two animation wheels and more, all in one fixture. With the introduction of the VL4000 Spot, I get all the profile fixture design capabilities needed in a single luminaire which in my opinion is a huge leap forward."
The 1200W VL4000 Spot luminaire boasts 33,000 lumens of output in Standard mode and 25,000 lumens in Studio mode. Its high resolution optics ensure remarkable center-to-edge focusing and an unprecedented contrast ratio while a 5:1 zoom covers an amazing 9 to 47° without sacrificing output or clarity. Along with mechanical iris, the beam of the VL4000 Spot can be further modified via the precise four-blade shutter system, independent prism with divergence control, and the variable frost. The luminaire also features dual rotating gobo wheels and dual animation wheels to provide dynamic motion effects.
Anthony continued: "When I learned that the next fixture in the series would be the VL4000 BeamWash, I liked the idea of using a fixture with the same expansive functionality as the VL4000 Spot. I have been nothing but pleased with the performance of the VL4000 BeamWash due to the functionality and compactness of everything you get inside which is outstanding, and I absolutely love using it in Shaft mode."
Without the need to change front lenses, the VL4000 BeamWash combines stunning wash capabilities with intense beam functionality and the ability to produce a powerful collimated shaft of light. Producing 43,000 lumens in Standard mode and 35,000 lumens in Studio mode, the VL4000 BeamWash uses a 1200W lamp to provide incredible point-of-source imagery through its 10 inch front lens. When used in Wash mode, the VL4000 BeamWash provides a 10 to 60° zoom range. By simply adjusting a DMX value, the luminaire can shift to an intense Beam fixture with an amazing four to 40° beam angle, or a Shaft fixture for a powerful, collimated ray of light where the four° beam angle can be further reduced to near zero. The luminaire also contains unbelievably smooth dimming flags which when combined with independent shutter blades deliver unmatched dimming and strobing abilities.
"I am having a great time designing with the Series 4000 luminaires and am honestly using the full gamut of what the lights can do," concluded Anthony. "During our worship services, I am asked to busk on a normal basis so we use both the VL4000 Spot and VL4000 BeamWash in a wide variety of ways. I really love the pure saturated color options on the color wheels, and with the VL4000 BeamWash, I find myself quickly going between the Shaft, Beam and Wash mode quite a bit. When we first saw how many design capabilities the VL4000 Spot and VL4000 BeamWash fixtures have to offer, I simply didn't see how we could pass them up, and I can now use them to cover any possible lighting design needed."
As a leading designer and manufacturer of premiere automated lighting systems, Philips Vari-Lite provides equipment and services to the entertainment industry, serving such markets as concert touring, theatre, television, film, cruise lines, houses-of-worship, and corporate events. Vari-Lite automated lighting systems are available through a worldwide network of independent professional dealers.