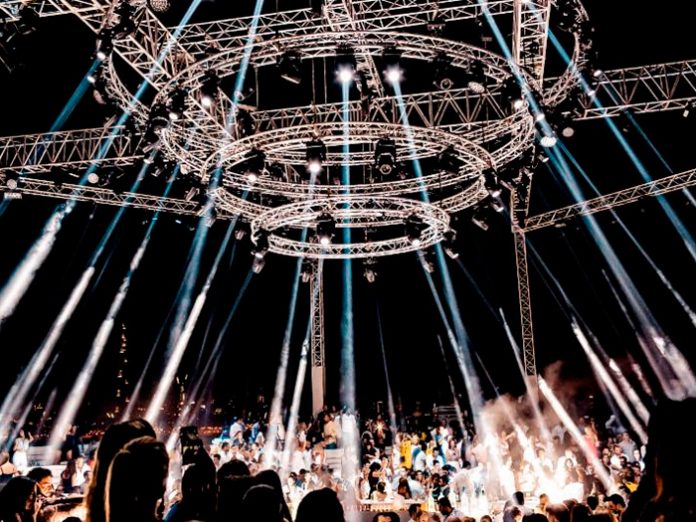 Over 30 Philips Showline SL NITRO 510C LED strobes have dazzled audiences at the packed opening party for WHITE club Dubai's third season.
WHITE Dubai is situated on the rooftop of the glamorous Meydan Grandstand racecourse. Each season sees a roster of international DJs take to the decks, with the club offering one of the most extravagant audio-visual party experiences in the Middle East.
During the opening party's 'reality-altering' light show, the Philips Showline strobes were employed to deliver beat-perfect bursts of colour that filled the space with light. The SL NITRO 510C is the colour version of the highly popular SL NITRO 510 and boasts an array of 264 tightly packed RGB LEDs to ensure maximum output.
"The SL NITRO 510C fixtures played a huge role in providing intense colour washes in conjunction with the LED wash lights," said the club's Lighting Designer Dave Parry of Most Technical. "Having the ability to colour change is fantastic and allows every look to be in sync. I also wanted to have a strobe effect running across the entire space, again working with the moving lights. When the place is rocking the strobe effects cut through and look absolutely awesome."
The Philips Showline strobes were positioned onto vertical trusses to add a perspective-bending edge to the light show. The plan is to also place some units under the central stage to add extra effects to the upcoming season's performances.
"As a stand-alone strobe the SL NITRO 510C is fantastic and the icing on the cake is its range of static and macro effects. These give me a much broader palette to work with as a designer," said Dave.
Rami Harfouch of Procom Middle East, the lighting and video supplier of the venue and distributor of Philips Showline, Selecon and Strand Lighting for UAE, adds: "WHITE club is a flagship venue for lighting and video equipment in Dubai. Addmind, the owners and managers of WHITE, are always on the lookout for cutting edge effects, which is why they embraced Procom's proposal to use the Showline SL NITRO 510Cs to replace their existing strobes."
"This is one of the most impressive club venues I have worked on," said Dave. "The beautiful set-up and environment in addition to the quantity and sophistication of the equipment supplied by Procom has allowed us to create one of the best nightclubs in the world."
WHITE Dubai is open on weekends throughout the season and is set to see a jam-packed calendar of events.