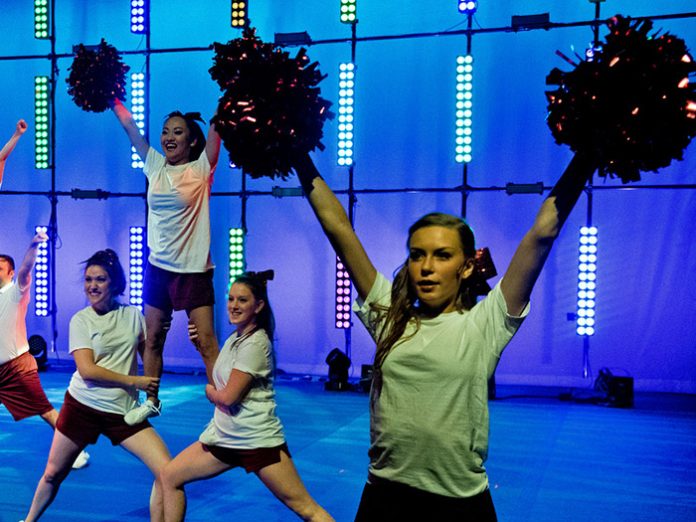 Located in North East, Maryland, the Milburn Stone Theatre at Cecil College is one of the regions premier theatrical houses. Proactive in fostering an appreciation of the arts, the company recently produced Bring It On: The Musical set in the high stakes world of competitive high school cheerleading. To create the lighting design for the explosive musical comedy, freelance designer William Price worked with Philips Entertainment to bring in a winning combination of his own that included Showline SL BEAM 300 FX, SL BAR 640, and SL NITRO 510 LED luminaires, along with Philips Vari-Lite VL4000 Spot luminaires and Philips Selecon PLCYC1 LED luminaires.
"When I was initially asked to create the lighting design for Bring It On, I wanted to pay homage to the original Broadway design by Jason Lyons," began William. "Understanding the high-impact lighting design necessary, I knew this would be the most technologically advanced production we had ever taken on and we would have to make some additions to the house rig. With the inclusion of the lighting instruments from Showline, Philips Vari-Lite and Philips Selecon, we were able to create the dynamic and energetic atmosphere of a cheerleading competition while also accentuating the softer musical theatre moments as well."
Using the 50ft x 40ft stage at the Milburn Stone Theatre, Price and his team got to work designing the production elements that could keep pace with the myriad of skyscraping pyramids, basket tosses, and hip-hip dance routines that make up Bring It On: The Musical. To do this, he had a very specific concept in mind.
"To give the show its most profound impact, I needed to build a full lighting environment," explained William. "We started with a vertically hanging pipe grid for the upstage wall filled with the SL BAR 640 LED luminaires and SL NITRO 510 LED strobes that would give the design an exciting visual dynamic. We then created a circular truss that moved in-and-out so that we could hang the VL4000 Spots in order to cover the audience with light but also hit specials on stage when needed. Finally, we needed a unique ground-level light source for additional audience visuals and this is where we used the new SL BEAM 300 FX fixtures."
As with any production, anytime a designer is using a light for the first time, there is to be a bit of the unexpected. Coupled with the fact that this would be the first time the new Showline SL BEAM 300 FX had ever been used on any production, Price truly had no idea what to expect from the LED luminaire.
He continued: "Having never used the Showline SL BEAM 300 FX before, I wasn't entirely sure what to expect, but they absolutely turned out to be everything I wanted and more. Because of their inherent control capabilities, it's almost crazy what one can create, and to wrap my head around all the things that the SL BEAM 300 FX fixtures could do was one of my biggest challenges. They have an incredible amount of flexibility and the beam shaping is extremely useful. To give the light a personality all its own, it also has a wonderfully creative dual-rotating front lens with individual pixel control, and it really is a jewel of a light."
The Showline SL BEAM 300 FX is a high performance moving head luminaire that delivers a powerful output, with fast and quiet movement. The 19 RGBW LEDs deliver exceptional output, and the versatile and effective precision optical design allows the SL BEAM 300 FX to function both as beam and as a wash luminaire. The SL BEAM 300 FX delivers a crisp, tightly collimated beam at the narrow zoom angles and the dual rotating front lens and effect wheel creates a unique myriad of bright compositions. The wider zoom delivers a powerful blended wash of color, and entrancing, fluid lighting effects can be created with the lens and effects wheel. Plus, individual pixel control and carefully designed optics deliver full flexibility with a large selection of unique preset effects and remove the need for inconvenient third party beam control accessories.
"This was also my first time using the VL4000 Spots and in talking about them, where do you start," admitted William. "They have so much capability. I used them to both spot the talent on stage and to create a lot of movement throughout the theatre, but they can do so much more. The VL4000 Spots really gave us the ability to create effects we had never done before at the Milburn Stone Theatre and it's such a powerful fixture that it was literally pouring light onto the stage and into the house."
The Philips Vari-Lite VL4000 Spot luminaire uses state-of-the-art technology to bring new features and innovation to productions around the world. Based on a Philips 1200W Fast-Fit lamp, the luminaire achieves over 33,000 lumens of output and also includes the all new Infinity color mix system, a 9-47 degree zoom, dual rotating gobo wheels, two adjustable animation wheels, framing shutters, an independent rotating prism with divergence control, variable frost and more. Additionally, a new selectable Studio mode now allows designers and technicians to further reduce the noise level of the luminaire and operate with an output of 25,000 lumens when desired.
"In talking about the SL BAR 640 LED luminaires, they have a wonderful effect of pulsation and chasing with the individual LED control that allowed us to create a beautifully smooth background of movement," William explained further. "On the other side of that, we also used them as audience blinders and they are extremely bright, even when in a deep saturated colour."
The Showline SL BAR 640 LED luminaire is a powerful 4ft RGBW linear wash luminaire that delivers exceptional light output and endless creative possibilities. Whether used as a wash or as a direct-view linear bar, the homogenized output will add to any production, and the independent module control of the pixels provides maximum flexibility and originality.
William went on to state, "As a complement to the SL BAR 640 fixtures, we also had the SL NITRO 510 LED strobe luminaires on the vertical pipe grid. Because they offer six independent zones of control, the SL NITRO 510 strobes gave us the ability to create even more chase effects. As a strobe it's incredibly bright, but having the ability to break it down into the individual zones gave the design something truly unique and it's so much more than a traditional strobe."
The Showline SL NITRO 510 is a cutting-edge, LED- based strobe that provides intense bursts of light with over 1300 high-powered LEDs which produce 68,000 lumens of output. Additionally to ensure maximum performance and an even distribution of light throughout a performance, the SL NITRO 510 includes features such as continuous-on, continuous full strobe, plus a built-in quick-connect system that allows them to easily connect together in both horizontal and vertical orientations maintaining a perfect pixel pitch alignment of each fixture's six programmable zones.
"For our cyc lights, we used the PLCYC1 luminaires," continued William. "With their coverage capabilities, I had enough to go across the entire upstage wall and then also use them as footlights. They are a great cyc light that gave us great tonality and they do very well in a theatrical environment."
The Philips Selecon PLCYC1 LED luminaire delivers smooth and even color in a compact, light-weight design using only 120 watts to illuminate drops up to 16' high. Each luminaire can replace the equivalent of a traditional four-colour, 500W Cyc lights and multiple units can be powered from a single circuit using our convenient powerCON™ cabling system along with standard DMX cables.
"In relation to all the LED fixtures with the Showline SL BEAM 300 FX, SL BAR 640, SL NITRO 510, and the Selecon PLCYC1 luminaires, it was amazing how little power they used," added William. "The entire upstage wall operated off of 10 20A circuit's which is amazing, and our Master Electrician Bevin Hensley did a fantastic job of data and cable management."
Looking back on the opening night of Bring It On: The Musical, William is quick to admit that had it not been for the assistance of the team around him and the performance capabilities of the lighting tools from Philips Entertainment, the production would not have been the same.
"Working with my programmer, Tamar Geist, we never could have accomplished the lighting design that was presented to the audience on opening night had it not been for the gear from Showline, Philips Vari-Lite and Philips Selecon," concluded William. "Tamar really did an amazing job of getting the most out of all the fixtures in the design, and the gear from Philips Entertainment truly gave this production the lighting environment needed to 'bring it on'."