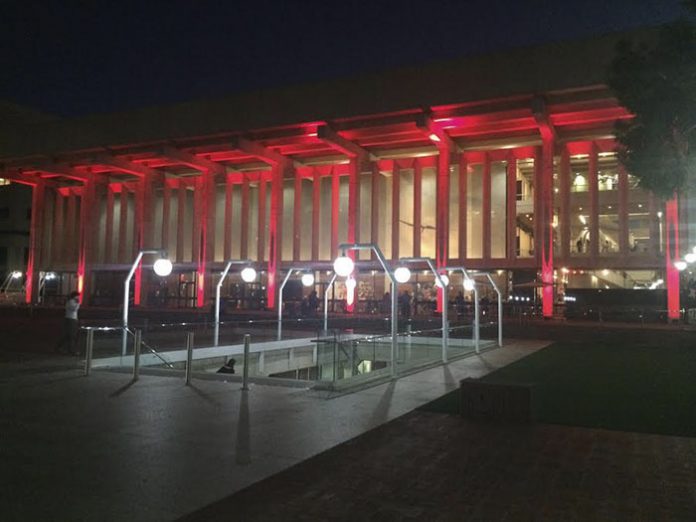 Elation Professional products are supported in Australia and New Zealand by distributor Lexair Entertainment, who earlier this year were involved in the refresh of the entire Perth Concert Hall lighting rig on Australia's west coast. Made possible through the State Government's Department of Culture and the Arts Infrastructure Improvement Program, the lighting project saw Head of Lighting, Alex Spartalis, with a lot of decisions to make. The choice to make the Perth Concert Hall home to Elation SixPar 300 RGBAW+UV LED fixtures was not one of the difficult ones. With the whole rig headed to LED, Alex had to audition a huge range of luminaires, and the SixPar 300s were an easy winner.
"I loved the six-chip design, the inclusion of amber, their narrow beam angle capability, the 5-pin DMX, and the build quality," Alex listed. Added to this is the fanless design, a must in acoustically sensitive applications like classical concerts. "All of the features Alex mentioned were a big plus," added Sean McKernan of lighting supplier Evolution 512, "but the fact they're completely silent was incredibly important. A lot of fixtures Alex and I auditioned simply did not have an acceptable noise floor."
The nine SixPar 300s are included in the house rig as floating fixtures – they're often used on stage, but also roam around the venue, sometimes used as powerful uplights on the nine columns of Perth Concert Hall's iconic Brutalist façade. "They've got great colour mixing, and they're really bright," continued Alex. "They're a good complement to the rig for our school and dance shows. We often use them on a stick of truss lower to stage than our 16.3 meter ceiling when we need something closer. They're also our back light colour off the screen truss now, because when we have a screen in place, it takes out our back light bar."
The indoor version of Elation's SixPar 300 runs 18 12W RGBAW+UV LEDs, with the amber and white LED's helping lighting designers to achieve extremely natural whites and pastels. They have 15° beam and 25° field angles, electronic strobe and dimming (0-100%), and five variable dimming curve modes. Vital for filming, they have flicker free operation. Multiple units can be power linked, and all can be controlled via RDM.
Lexair and Evolution 512 pride themselves on professional service, prompt technical support, and quality products. "We have a great relationship with both Evolution 512 and Lexair," confirmed Alex, "and hopefully we'll be buying more equipment from both of them soon!"
About Elation Professional
Elation Professional is one of the world's leading lighting and visual solutions providers and is the global brand of Elation Lighting. Founded in 1992 and headquartered in Los Angeles, with European sales, distribution and support based in The Netherlands, Elation designs and manufactures a comprehensive range of innovative yet affordable lighting and video products that are distributed through a global network of dealers and distributors. Made up of a spirited team of dedicated personnel, Elation is setting new efficiency and performance standards in Platinum lamp and LED technology and is acknowledged for a comprehensive commitment to Total Support. As a company in expansion with a presence in a growing variety of market segments, chances are you've experienced Elation lighting at a concert, special event, TV, theatre, late night venue, House of Worship, theme park, cruise ship, exhibition, architectural space or elsewhere.
For more information, please visit www.elationlighting.com