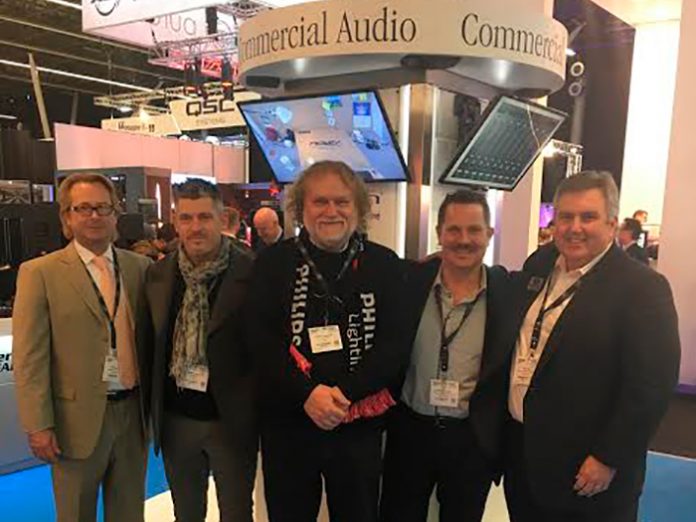 Peavey Commercial Audio has strengthened its European footprint with a new Italian distribution partnership with Audio Link Srl.
Utilising Audio Link's wide customer base, the deal will see PCA's full portfolio of audio solutions, including MediaMatrix, Crest Audio and Peavey Commercial Audio now available throughout Italy, Malta and San Marino.
For Audio Link Managing Director Stefano Cantadori, the deal represents a reunification with Peavey, whose technology is a tried and trusted offering. He explained: "In our company history, through our valued customers, we have been able to supply MediaMatrix and other Peavey Commercial Audio technologies, to some of the most prestigious cruise ships, sanctuaries, museums, theme parks, sport arenas, leisure centres, meeting rooms and offices. Audio Link pioneered the on-field programmable DSP Matrix Systems in Italy, a class of products that today is the absolute worldwide standard in permanent installation."
'We believe the role of a distributor is very simple: to be the shortest link between clients and the factory. This is our foundation and we are convinced that today this principle is truer than ever."
Stefano added: 'We are honoured to re-join Peavey Commercial Audio, who we believe to be the world leader in their field. We are excited by the latest developments in the digital segment and by the many new products and solutions we can now bring to the market." 
Following new 2016 distribution deals in Spain and the Nordics, this latest partnership is a warmly welcomed addition to Peavey's European distribution channel.
Peavey's European Sales Manager Christoph Sesseck said: "We are delighted to be partnering with a company so rich in heritage and professional values as Audio Link. Our Commercial products and solutions are the perfect fit for their already impressive and complimentary brand line up. We look forward to combining our collective strengths and resources to further increase our levels of service and support to our customers in the Italy region."
www.peaveycommercialaudio.com