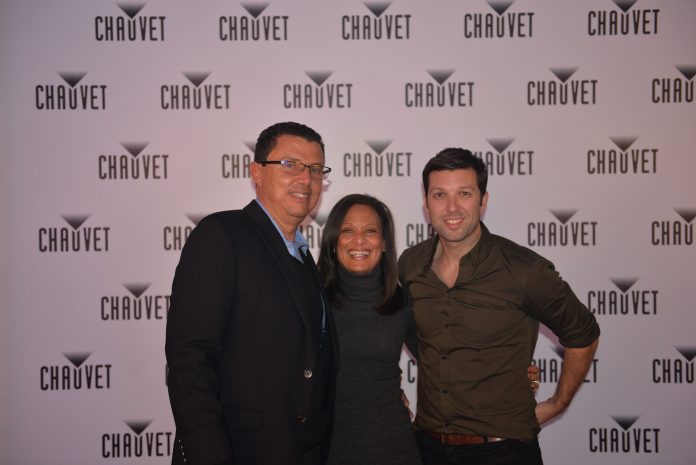 A crowd of over 200 lighting professionals marked the grand opening of Chauvet's European branch office, in Ghent, Belgium, as well as the company's 25 anniversary, by enjoying an evening of festivities, product demonstration, music and a breathtaking light show. The invitation-only event, which drew guests from a variety of countries, also featured a cornucopia of food as well as beverages, including a sparkling special edition Chauvet branded champagne.
As Chauvet's second European facility, the Belgium office will cater to demand in the Belgium, Netherlands and Luxembourg regions. In conjunction with Chauvet's UK branch, the new office will also play a key role in servicing and supporting distributors elsewhere on the European mainland, with particular emphasis on France, Germany and Italy.
Among the highlights of the evening was a light show of epic proportions that drew upon the output and intensity of Chauvet fixtures to fill the spacious room with a sweeping range of looks infused with influences from rock, EDM and other musical genres.
Company founder and President Albert Chauvet and European General Manager Michael Brooksbank both held inauguration speeches personally welcoming guests to the new facility. Later, guests got to learn more about the company through a guided tour and an evocative video that showed the heart of Chauvet.
"The evening was an all-round fantastic event," said Albert Chauvet. "Above all else, this was an ideal occasion to meet and greet our customers and to learn about their needs."
Vice President Berenice Chauvet was just as enthused by the evening's events. "We were overwhelmed by the 200-plus turnout. Despite being new to the market we proved that we already have a significant presence in the region."
With the new Belgium premises, Chauvet is set to capitalise on its increasingly strong position in European. "We look forward to being able to serve the European lighting market better than ever through our Belgium facility," commented Chauvet's Europe Manager Michael Brooksbank. "We've had a very successful start in Belgium, and judging by the positive reaction of all our guests, we're hopeful this can be a blueprint for our future in Europe."