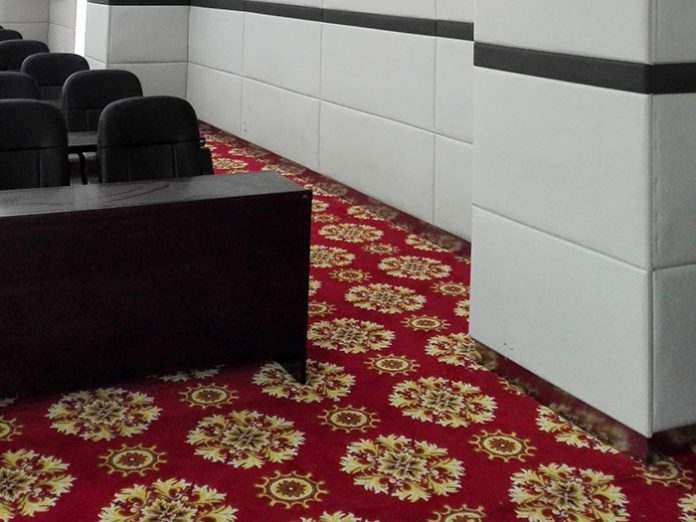 Guangdong, China-based MUSE Audio Professional recently specified and installed One Systems loudspeakers in a multi-functional conference room in the Guangxin Building, located in Shangrao City, Jiangxi Province, China.
The Guangxin Building is affiliated with the government building in Shangrao City and houses 50 government departments. The conference room, used primarily by these departments, is 693 square meters and can accommodate more than 100 people. The room includes conference panel seating for 12 and a small stage at the front of the room.
The distributed system consists of eight One Systems 208/HTC loudspeakers bracket-mounted equidistant down each of the side walls. The compact 208/HTC features a two element vertical array made up of two eight-inch low frequency devices. The top eight-inch unit is a coaxial design that utilises a medium format titanium compression driver to provide high frequency radiation.
Two clusters, made up of two One Systems 112/HTH loudspeakers, are hung to the left and right of the stage. The 12-inch two-way loudspeaker is equipped with a large format titanium compression driver and high order filtering to provide superb intelligibility, extended bandwidth, as well as exceptionial system dynamics.
Low end support is provided by two One Systems 118/HSB subwoofers positioned on the floor under the clusters. When utilised with the 112/HTH in a bi-amp configuration, the system provides full bandwidth operation at very high sound pressure levels in a very small footprint – ideal for a multi-purpose conference room.
"The client is very pleased with the end result," concluded Violet Pan, MUSE Audio Professional. "The One Systems loudspeakers provide the vocal clarity a room of this size requires. When a presentation utilizes music, the system also sounds great. It is a perfect fit for this room."