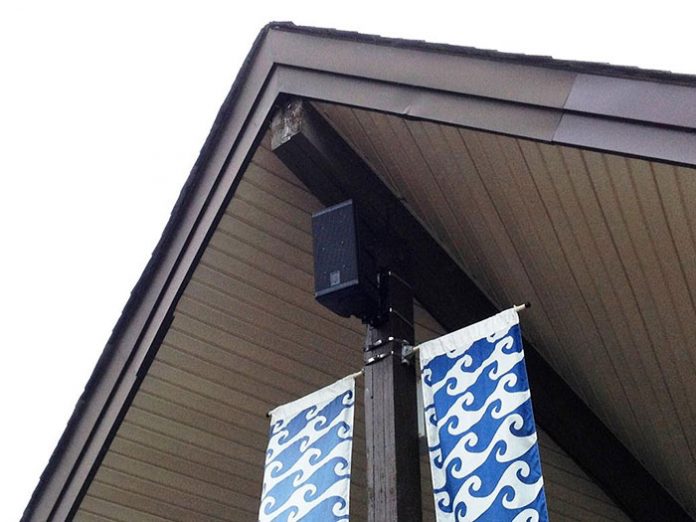 The Family Aquatic Center in Summit, New Jersey, recently installed a new sound reinforcement system featuring a One Systems 208CIM direct weather loudspeaker. Scott Hibbard Audio was tasked with the design and install of the system.
"The Aquatic Center is a huge attraction for the community that features an Olympic-sized main pool, as well as a leisure pool, children's pool, snack bar and picnic area," explained Scott. "They had an older paging system that didn't sound good and spilled over into the surrounding neighbourhood, so they decided it was time for an upgrade."
The outdoor aquatic centre encompasses an area approximately 260 ft wide by 300 ft deep with a bathhouse located at the shallow end of the Olympic swimming pool. The facility management required a system that would cover the entire area, provide vocal intelligibility for announcement and safety purposes, offer enough quality for music playback and be resistant to the weather. Scott, who was very familiar with One Systems loudspeakers, was confident a single 208CIM would do the job.
"The best place to mount a loudspeaker was above the bathhouse entrance, so we bolted the 208CIM to the wooden A-frame structure via a PT-38 pan/tilt bracket with BAND-IT straps providing secondary support," Scott explained. "I had used the 208CIM at football stadiums before, so I was certain that if placed in the peak of the roof, it would be the perfect solution."
The 208CIM is a compact, high output vertical array loudspeaker designed for excellent intelligibility. The dual eight-inch system has a coaxially mounted high frequency driver for superior upper range reproduction. Vocals are reproduced by its two-element direct radiator design without traditional horn colourations. The small footprint is ideal for discrete installation applications.
Available in black or white, the 208CIM's enclosure is made from a copolymer optimised for high UV exposure and long life in harsh environments. All rigging and suspension hardware and grille are made of stainless steel. The grille is a three-layer rain shield design that minimises direct moisture contact with the system's transducers. The unique vent design also provides effective moisture drainage from the interior of the enclosure.
"The management was skeptical about one loudspeaker doing the job," Scott concluded. "They were amazed and very happy with the end result. The One Systems loudspeaker sounds terrific."