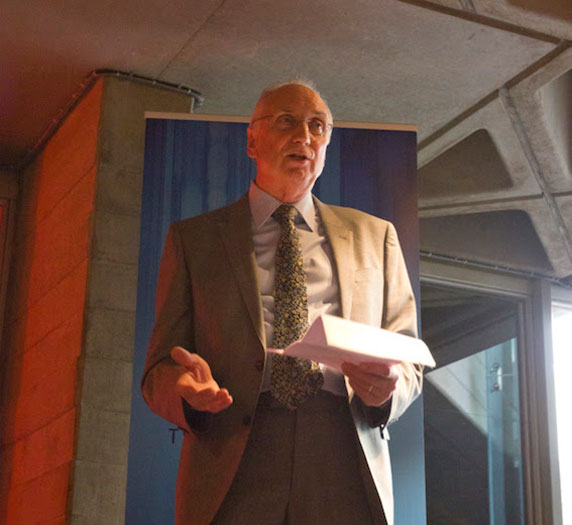 35 years after co-founding Northern Light, John Allen has left the company to enjoy a well-earned retirement. On 7/ September, a gathering of some of his many industry friends and colleagues heard how John's passion and expertise had always led the company from the front, leaving it and sister company Stage Electrics – who joined forces last year – in a great position to serve their customers better than ever.
As with many in the industry, John's start in theatre came at school, followed by a stint in the National Youth Theatre and formal training in technical theatre. Having worked at Harrogate Rep, York Theatre Royal and Perth Rep, in 1971 he founded Northern Light with Andre Tammes in Edinburgh. The company went on to become one of the UK's leading suppliers of entertainment technology to a diverse array of venues.
Managing Director Dan Aldridge noted (with tongue firmly in cheek) that, for so long a rival, he had often wished John would retire. But with Northern Light and Stage Electrics joining forces, he was very happy that John's exceptional knowledge and experience had latterly been working for the benefit of both companies. He paid tribute to John's skill, tenacity and passion as a salesman and his willingness to let virtually nothing get in the way of an opportunity – although even John had had to admit that an appendicitis was a reason for one particular trip to Turkey had to be aborted. That said, it was probably the only thing that would have stopped him.
John was instrumental in driving Northern Light's growth, building solid partnerships with customers, gaining and maintaining a wide range of official accreditations, as well as seeking – and acting on – customer feedback. With entertainment technology having changed massively during that 35 years, these values ensure that 2015 sees both Northern Light and Stage Electrics at the vanguard of entertainment technology providers.
Characteristically, John isn't taking retirement as a reason to put his feet up. His days of flying off to far-flung parts of the world at minimal notice may be over, but he will continue to be actively involved with theatre technology in a variety of industry-related roles and also as chairman of Showlight, the quadrennial lighting design event, which next takes place in Florence, Italy, in 2017.