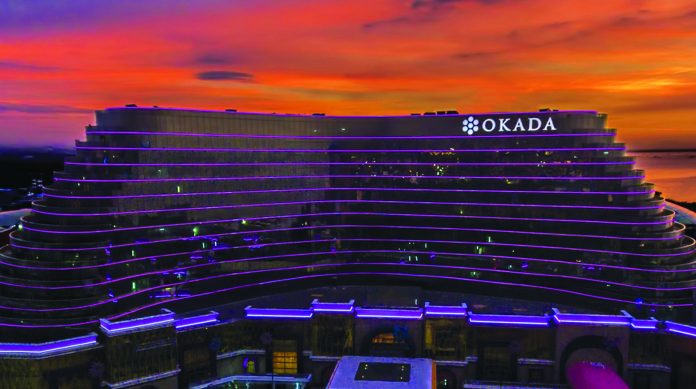 As a world-class destination that combines advanced technology with deluxe amenities, Okada Manila wanted to offer cutting-edge video entertainment throughout its property.
The resort required a reliable video solution that could easily handle the vast range of media inputs and diverse distribution requirements.
The solution needed to be flexible enough to interface with a wide range of display types and aspect ratios whilst being easy to manage for operators, to make sure the right content, branding, wayfinding and messaging gets to the right machine or screen, at the right time.
Okada Manila chose VITEC for its low latency, high picture quality, easy-to-use, reliable and integrated IPTV and signage system.
The centrally managed solution enables the seamless distribution of TV channels, promotions and jackpot information on each of the electronic gaming machines and screens across the casino gaming floor, as well as to back-of-house areas.
Over 130 sources feed directly into VITEC HDMI Encoders, including live international and local TV, gaming machine content, Okada advertising channels, live camera feeds and event footage.
Alcatel-Lucent Enterprise designed a resilient, reliable, and secure network infrastructure to handle the volume of data and devices connecting at any given moment.
Content is distributed across the network to LED screens both internally and externally, and 600+ media player end-points on both the casino floor and public spaces.
All content is aggregated, managed, monitored and distributed through VITEC's Avedia server platform, which ensures that the right content reaches the intended end-point, at the correct size and aspect ratio, at exactly the right time.
Content is displayed on individual gaming machines, bank end screens, gaming machine LEDs, Digital Signage screens and Samsung TVs – including in the 1000+ bedrooms.
The VITEC solution is also integrated with the Casino Jackpot system, which triggers different audio (integrated with QSC) and video experiences across different areas of the casino and wider resort, depending on the size of the win.
Local technology integrator All Visual & Lights Systems (AVLS), was instrumental in securing the partnership with VITEC, and undertook full testing and Proof of Concept (PoC) with the client to ensure the solution delivered exactly what was expected.
A spokesperson for AVLS said: "The flexibility of VITEC technology enabled us to deliver content to a wide range of end-point devices whilst retaining image and video quality.
"VITEC's feature-rich, fully configurable IPTV and digital signage solution means the venue can easily create and deliver content to multiple screens across the casino and its bedrooms, greatly enhancing its guests' experience."
The VITEC solution enabled Okada Manila to display a dynamic range of entertaining and informative content on hundreds of connected screens including Samsung TVs, computer screens, mobile devices and LED screens across the venue.
The technology advancements from VITEC and providers, including Alcatel and Samsung, have created a unique visitor experience, and the casino has benefited from increased footfall, extended dwell time, revenue growth, and above all, a casino destination clearly differentiated from the competition.
"The Casino at Okada Manila is the newest, most dynamic casino in Entertainment City, and we wanted an AV solution that reflected our commitment to the guest experience.
"The VITEC IPTV system has for over 5 years provided us with a dependable and high-quality solution that positions us at a world-class resort at the forefront of technology," said a spokesperson for Okada Manila.
Jamie Hind, VITEC Regional Director, APAC, added: "The installation at Okada Manila is awesome; dynamic and engaging video content is essential to the open-all-hours, thriving and lively visitor experience that integrated resorts such as Okada Manila offer, so being able to use one platform that can ensure that the right content gets to the right machine or screen at exactly the right time is paramount.
"We look forward to our continued collaboration with Okada Manila, AVLS, Alcatel-Lucent Enterprise and Samsung to ensure that we deliver best-in-class experiences to the resort's guests."