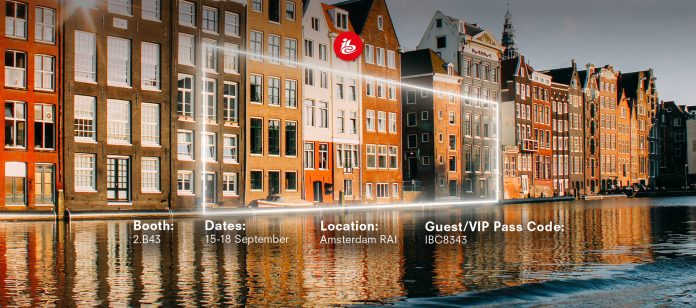 INFiLED, a global leading manufacturer of LED displays, has announced the launch of a brand-new LED solution at IBC, the largest international event in the broadcast industry, which takes place from the 15th-18th of September in Amsterdam.
INFiLED will showcase its new STUDIO Series, an LED modular system which aims to create tailor-made stages for broadcast,  extended reality and virtual production that enhance the creative experience of professionals in the sector.
The benefits of using the INFiLED STUDIO Series are focused on providing better tools to build immersive and realistic virtual environments that help create memorable stories and deliver e high-end productions.
At booth 2.B43, as part of the STUDIO Series, INFILED will present 3 new technologies: INFINITE COLORS – RGBW technology offering extended colour spectrum -, CBSF – provides better colour accuracy, brightness avoiding colour shifts – and SEAMLESS CURVE – which improves viewer experience and shortens post-production time.
In IBC, INFiLED will showcase for the first time its new Infinite Colors technology.
Traditional LED video displays only use 3 emitters: Red, Green, and Blue. INFiLED is introducing a fourth emitter in a custom LED package that increases the colour spectrum viewed from professional cameras by using an LED video Ceiling.
Infinite Colors improves a variety of LED applications by allowing full variations in tone, saturation, and colour appearance in white light and custom colours, all featured in one display.
The implementation of this new technology means a significant advancement in colour and texture reproduction, ultimately leading to a higher Colour Rendering Index (CRI), going beyond traditional display solutions, and providing a more accurate representation of colours and textures that result in a visually stunning and natural appearance of human facial tones.
The initial application of the Infinite Colors technology can be observed in INFiLED's Studio AR Series, which will be also presented during IBC.
This innovative implementation serves as a stepping-stone towards the development of a comprehensive range of high-performance extended light and colour spectrum solutions tailored specifically for virtual productions.
By incorporating this technology into the virtual ceiling, creators can seamlessly integrate captivating and dynamic lighting effects that enhance the overall visual quality of virtual productions.
INFiLED's Infinite Colors technology, along with the cutting-edge solutions from Brompton Technology such as True Light with G1 receiver card, paves a new path for the future of AV productions.
It combines the best lighting canvas with the best engine for a unique experience that brings an unprecedented extended colour spectrum, all in one display solution package.
At booth 2.B43, INFiLED will be also showcasing its flagship WP 1.2 as well as one of its latest innovations, the CBSF Technology, which has been seamlessly integrated into the STUDIO DB and STUDIO Xmk2 series, marking a significant advancement in display technology.
One of the standout features of CBSF is its ability to greatly enhance background performance through superior colour accuracy. This is achieved by mitigating colour shifts that can often occur in other displays, ensuring that the visual experience remains consistent and true to the intended colours.
For IBC 2023, INFiLED is proud to collaborate with Brompton, Tangent, Cannon, and Disguise. Together, they are committed to the development and promotion of innovative technologies that can improve the quality and efficiency in audiovisual production.
Moreover, the company is set to captivate attendees at the event with a revealing series of expert panels and in-depth discussions.
The sessions will centre around the debut of INFiLED's latest technological breakthroughs, enhancing the company's commitment to innovation and industry leadership. Further details about the schedule, topics, and participating experts will be made available as the event date approaches.
This new technology enhances INFiLED's dedication to providing cutting-edge solutions that enrich user experiences. Its commitment to innovation ensures that all products transcend conventional boundaries, pushing the limits of what's possible.
INFiLED believes in many ways to drive innovation, one is through powerful partnerships with companies like Zero Density, a pioneer in virtual production solutions.
Together with Zero Density, INFiLED will launch next-level LED displays and state-of-the-art virtual production technology at the Experience Center in Dubai, where clients and enthusiasts will witness the convergence of next-level LED displays and state-of-the-art virtual production technology.
This collaboration not only underscores INFiLED and Zero Density's shared commitment to pushing the boundaries of innovation but also signifies their dedication to meeting the ever-evolving demands of the market.
"Our experts have decades of experience helping clients like Fox Sports, The Weather Channel and RTL blend the real and virtual.
"Now with INFiLED, we aim to take virtual production technology to the next level – all while making our advancements accessible for anyone in Dubai to explore," said Amir Hochfeld, Chief Product Officer at Zero Density.
INFiLED's Experience Center in Dubai will serve as the premier platform for unveiling these revolutionary solutions. Here, clients and enthusiasts will witness firsthand the convergence of next-level LED displays and state-of-the-art virtual production technology.