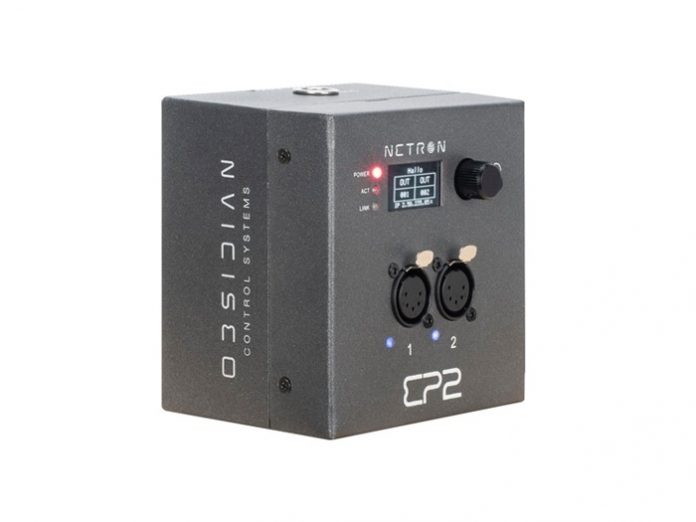 NETRON EP2 is a no nonsense, no compromise Ethernet to DMX gateway solution for the professional lighting and AV markets. Part of the NETRON family of easy-to-use EtherDMX nodes, it offers a solution for systems that require rugged hardware, flexible configuration and a reliable Ethernet to DMX gateway solution at an affordable price.
Ideally suited for the installation of distributed DMX Universes in venues, the universal housing of the EP2 provides mounting in 2-Gang boxes (US) as well as European Standard 50mm round boxes in the same extremely compact design. EP2 ships with a full metal back box and M10 and M12 truss mount bolt attachment points included, as well as a universal USB-C power supply.
NETRON EP2 offers two 5pin DMX/RDM optically isolated ports, each port bidirectional for DMX In and Output. Designed with ease of use in mind, it is simple to configure through either the 1.3" OLED display and encoder or the integrated web menu system. POE or USB-C powered, it includes factory and user presets for instant plug-and-play setups. It follows the same proven, user-friendly menu structure as existing NETRON nodes in the market. The NETRON EP2 also unlocks the ONYX Nova license, allowing up to four Universes of DMX output.
EP2 is part of Obsidian Control Systems' flexible NETRON data distribution range that encompasses Ethernet to DMX gateway, DMX splitter and DMX/RDM splitter solutions. NETRON devices support Art-Net, sACN, DMX-512 and RDM protocols and are quickly gaining a reputation for reliable 24/7 operation.