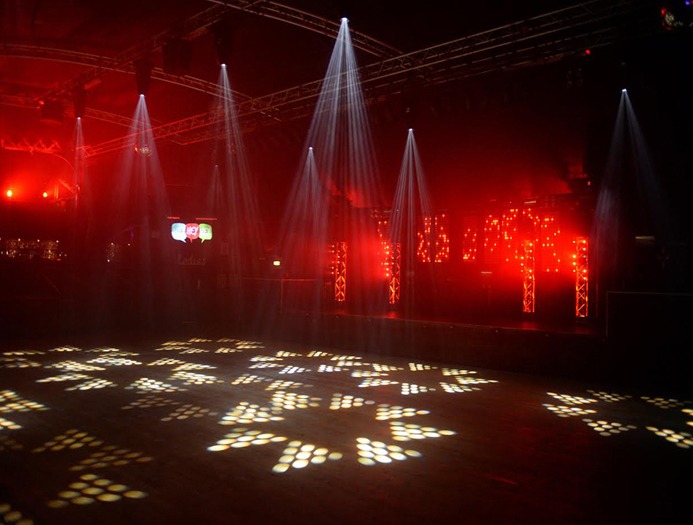 Since opening its doors in 1980, Nottingham's 2,500-capacity Rock City has showcased some of biggest names in alternative music.  Recognising this, the club decided to upgrade its lighting system. To accomplish this, its lighting technician Mark Merry specified an array of CHAUVET Professional fixtures, including 24 PVP S5 LED panels, 12 Rogue RH1 Hybrid moving heads, and 8 Colordash Batten-Quad 6 LED strips.
"The decision to install the selection of Chauvet fixtures was an extremely pragmatic one," explained Merry. "As we required a completely new visual package for both live performances for touring bands and regular weekly club nights, we needed a versatile selection of high performing fixtures which could adapt to a whole manner of different musical environments. The fixtures we selected fit the bill for both functions."
Forming a central focal point for live performances and club nights, the array of PVP S5 panels fixed to standing upright truss provide visiting bands and LDs with the opportunity to stream graphics or video feed behind the bands. "The PVP panels have incredibly sharp resolution," commented Merry. "Even for the dedicated fans at the front of the stage, visuals are pin sharp, thanks to the low pixel pitch."
In the past many bands had to bring their own LED panels into Rock City, to the delight of returning designers, LED screens now form part of the house rig. "The panels are unbelievably practical," continued Merry. "Thanks to their light weight and ease of assembly, we can easily dissemble them as and when required. They certainly give an extra visual dimension to the club nights too."
Positioned on three rows of ceiling truss over the main section of the audience, the Rogue RH1 Hybrids form a key part of venue's lighting rig, providing both wash, beam and spot effects, thanks to an intense 330W Osram light source.
"When we tested the RH1 fixtures at Chauvet's Nottingham showroom, we were immediately impressed by the versatility of the fixture," commented Merry. "Not only is the spot extremely bright, this fixture has incredible saturated colours in wash mode and extremely targeted concentrated light in beam mode."
To provide both club nights and bands with sufficient looks, Merry utilises the Rogue's extensive array of gobo effects, prism and zoom features.
"The various effects of the RH1 allow for practically unlimited combinations of looks for both bands and the club nights," he continued. "Given that we were on a tight budget, the Hybrid fixtures essentially provide us with the perfect price-performance ratio, ensuring we don't have to buy separate wash, beam and spot lights."
Aiming to fill the venue with colour and atmosphere, Merry opted to install the Colordash Batten-Quad 6 LED strips on various points on the venue's surrounding walls. "The Colordash Battens provide fantastic atmospheric lighting, especially during the club nights," continued Merry. "One of the best features of the fixture is its ability to provide saturated colours for a cyclorama-like effect which gives an extra sense of depth and feel to the venue."
Rock City has long since achieved the kind of cult status most venues would kill for, now Merry and his team are able to offer the kind of light show one might expect from a venue of this calibre. "Thanks to the new lighting system the shows that we can now offer bands and concertgoers are off the charts," said Merry. "Now one of the best venues in the country has one of the best house lighting rigs too."