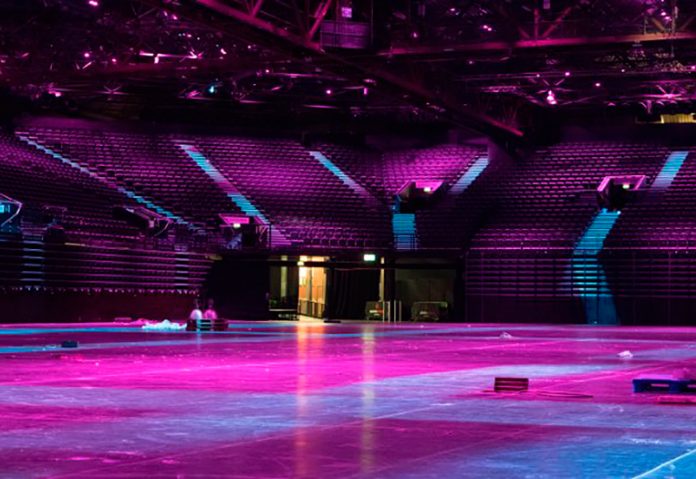 Last year, sound, lighting, AV and stage technology services company Northern Light was asked to install a new, more energy efficient, house and work light system for the Genting Arena. The primary goal was to enhance the overall customer experience and to have something very different to the other arenas in the UK. The solution was an innovative combination of ETC and GDS lighting fixtures.
In 2015, Genting UK, part of leading global leisure and entertainment company, the Genting Group, took over the former LG Arena at Birmingham's NEC. Now known as Genting Arena, the 15,700-capacity venue is the Midland's premier entertainment destination, hosting events from world-class comedians, sportspeople, singers, songwriters, dancers and daredevils.
"Northern Light has enjoyed a good relationship with the NEC group for several years, having completed successful installations at several of their sites, which is how we became involved in this project," Says Michael Percy, Project Manager/ Design Engineer for Northern Light. "The existing work light in Genting Arena was poor and deteriorating and they had issues that affected visiting touring companies, so they wanted to upgrade both this and the house-light the system, the aim being to create a safer environment for the staff to work in, to give their customers a better experience and for both systems to be energy efficient, consequently reducing running costs for the venue."
For the work light system, there was a requirement for maximum coverage, good quality light and minimal glare, so that teams working on floor were not dazzled if they looked up into roof, but also for the same fixture to have a wide beam angle to light more of the roof, so that riggers can locate load points easily and have a good quality of light to work with.
This presented a challenge, as a high brightness fixture was needed to achieve a suitable LUX level at low level, but with a wide beam angle of 120 degrees or more. It also needed to be a LED light source to comply with Genting's environmental initiative, and have a soft light output.
With no suitable off-the-shelf solution available, GDS custom built two metre LED tubes to deliver the required brightness and coverage.
"When we came to look at the houselight system, the venue's Chief Electrician, Pete Hammond, had seen a coloured LED installation at the Ziggo Dome in Amsterdam and wanted to adopt a similar system for Genting Arena," explains Michael. "We knew that ETC's fixtures would be the right lighting products to work with. It just so happened that Ziggo Dome was also an ETC installation, so this gave us a great platform to work from."
Working alongside Northern Light's team of Saul Eagles, Business Development Manager, Simon Cooper, Chief Engineer, Kenny Wilson, Site Supervisor and Keith Percy, Commissioning Engineer (Control), Michael set about determining the best solution for the project, with initial design starting in January 2016 and Northern Light demonstrating various fixtures during March.
"We spent a lot of time figuring out what was and wasn't going to work throughout the Spring, including ideas for suspension, rigging, cables routes and containment," Michael says. "We then did fixture demonstrations, including the ETC Coloursouce fixtures- an LED system that offers hands-on control, high-quality lighting, data distribution and power control in an approachable, plug-and-play format. We were blown away with their performance, particularly given the throw distances we needed to achieve, and we knew they would give the venue the colour changing capability it wanted to achieve, as well as an amazing level of control provide by an ETC Gio lighting console."
The final system comprises a combination of ETC and GDS fixtures, with 372 no ETC Coloursouce PARs General Wash for houselights and 163 ETC Coloursource Spot fixtures for aisle lighting. Work lights are a total of 240 GDS Custom LED tubes ("These ticked all the boxes and gave us exactly what we needed," says Michael.) and GDS Arc8 Cell units.
A GDS Mains Blues System is installed along the catwalks and Follow Spot control areas. All fixtures are mounted at high level using custom metalwork and bracketry. Control is via an ETC Gio Console and three ETC Paradigm Systems with an ETC Paradigm Central Server. These are located at two different locations around the arena (north and south) with the system also tied into an existing ETC network to form a much wider control network. The system is powered by two ETC Sensor 3 racks with relay modules located at two different locations around the arena (again, north and south) to minimise the lengths of the cable runs, with the DMX/S-aCN Network distributed by an ETC Net3 System with 17 ETC Four-Port Gateways.
Supported by teams from the NEC and Genting Arena Rigging and Electrical Department, work started on site in July and was completed at the beginning of September, with the Northern Light team providing onsite support for various events throughout September and October.
"There were several challenges presented to us, not least of which was the sheer scale of the venue," says Michael. "We were also working at height, with all work carried out from mobile access platforms, as nothing was accessible form the technical walkways/gantries or floor level. We also had to install new containment and wiring throughout the arena bowl."
Additionally, the position of the fixtures was restricted, due to general requirements and the space needed by the rigging department to accommodate the multitude of productions the venue hosts. Because of this, the fixtures had to be located hard up against the roof, out the way of all the node points and steelwork. And with only had a 13-week installation window during the summer dark period to install and commission the entire system, the four teams worked 12 hours a day, five days a week.
"It was a very tight schedule, but it was all worth it," Michael adds. "When we first turned the system on the difference was incredible and the work lights in particular make a huge difference to the staff, the venue and incoming shows."
"The installation of this new colour changing lighting system has really improved the quality of our lighting solutions within the arena, and will help create an unforgettable experience for all our event-goers," concludes Phil Mead, Managing Director of the Genting Arena. "The £800k system can create different atmospheres for all genres of event, and allows event organisers to use their exact brand colours throughout the arena. With our lighting, they have more flexibility to deliver a bespoke customer journey, a unique option that cannot be found anywhere else in the UK at present."