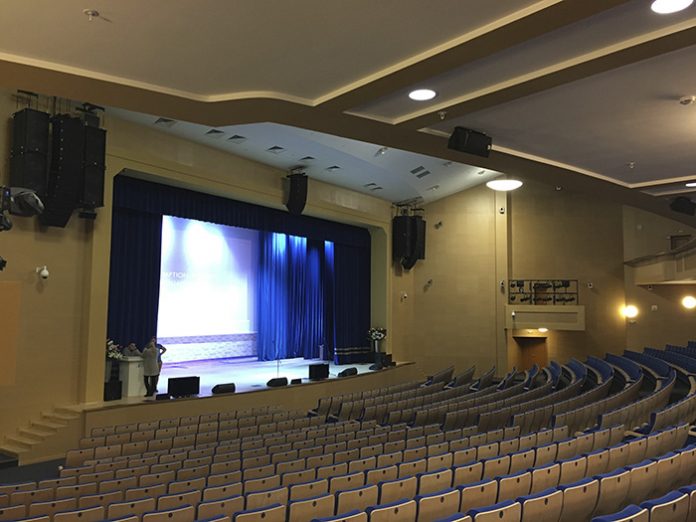 Nobel Hall, the main auditorium of Moscow's Financial University, is a multipurpose space within this prominent and prestigious educational facility.
Equipped with a Martin Audio W8LM Mini Line Array, the hall, which operates under the Government of the Russian Federation, is capable of hosting 1,350 people. The opening was timed to coincide with the First Moscow International Economic Forum and has since been used for many world-leading scientific conferences and seminars.
This hall is also used for various forums and events, involving numerous creative teams of the Financial University and prominent guest performers, while a university tradition includes hosting two lectures from Nobel prize winners every year. Thus perfect speech intelligibility and highest quality of music reproduction were key requirements during the design process — and Martin Audio products became the choice for this complex and ambitious environment.
The systems were designed and installed by Theatrical Technological Systems (TTS), a company specialising in system design and integration, and supplied by Martin Audio's Russian distributor – A&T Trade.
The main L-C-R system set-up includes 11 W8LM elements plus a W8LMD downfill per side and four W8LM plus two W8LMD for centre channel, all powered in bi-amp mode. The arrays are complemented by four WS218X subwoofers per side.
Martin Audio DD6 are used for front-fills and under-balcony area, while 12 white Martin Audio AQ28 are delayed to ensure consistent coverage for the balcony seats. Side-fills include Martin Audio WT3 paired with WS18X subs while LE monitors are used on stage.
Amplification is provided by dozens of Martin Audio MA3.0, MA4.8Q, MA5.2K, MA9.6K, MA12K and MA18K amplifiers. BSS Soundweb BLU-160 signal processor (with redundant system) is used for system processing and tuning.
Aleksander Lishek, Deputy Head Of Information and Technology Support Service at the Financial University, said: "We heard a lot about the so-called 'English sound', and when the experts from TTS offered us the chance to use Martin Audio systems, we agreed."
And it's certainly proved justified, he confirmed. "Thanks to the Martin Audio systems the hall sounds 'big' and clean, despite the complex architecture of the hall. We really enjoy listening to it."