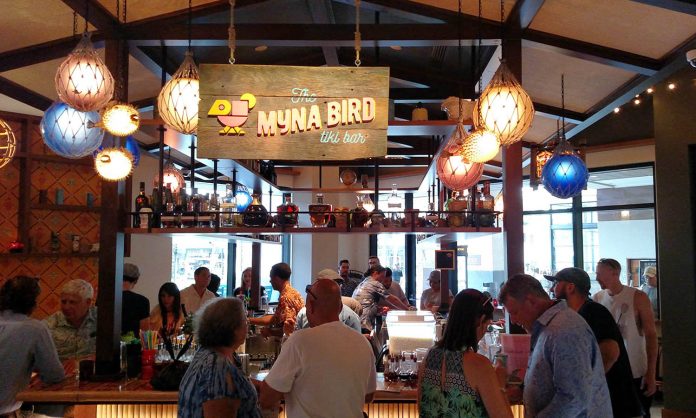 No Static AV operates out of Burbank, California for the benefit of clients local, regional and national. One of its long-standing clients is famous chef Michael Mina and his diverse collection of restaurants around the country. Whenever the Mina Group opens a new concept, they call on No Static to give it the right sonic impact and fidelity. No Static, in turn, calls on Ashly Audio for its diverse line of reliable multi-channel amplifiers, DSP products and user interfaces. Such was the case recently at 'The Street', where No Static installed an Ashly ne8250.70pe combined eight-channel network amplifier and Protea DSP, paired with Ashly's free customisable iPad user control app.
"We've been working with the Mina Group for a while now and in fact recently did an installation at StripSteak Waikiki in the same area as The Street," said Eugene Gordon, CEO of No Static AV. "The Street is unique. They've placed many concepts under one roof, a ramen noodle bar, a strictly-vegetarian counter, an Italian counter, a shaved-ice specialty shop and more. Everyone gets their food and then sits together in the common seating areas. The Mina Group is now familiar with the kind of systems we build and they, (like us) have come to appreciate Ashly's rock-solid reliability and easy user interfaces. We don't have to go through any kind of sales pitch with them as we just say 'Ashly amp and control' and they know it'll be good." In addition to handling the audio, No Static also gave every counter its own digital signage of which will facilitate turnover of concepts with minimal fuss.
Inputs to the system include a music player in the rack and several input pockets on the floor at strategic locations. The input jacks accommodate small bands or DJs whereas the Ashly ne8250.70pe performs all input processing, logic and user control routing as well as loudspeaker conditioning. Output zones include the Tiki bar, the beer & wine bar, a handful of counters near the outside and the restrooms. All the seating is covered across these zones with an army of QSC pendant loudspeakers providing the bulk of the output, with a handful of QSC in-ceiling loudspeakers where the structure requires them.
"Since we're in California and the restaurant is in Hawaii, reliability is paramount," Gordon said. "Ashly's gear is extremely reliable, so that gives me a lot of comfort. However, if anything were to go wrong, the fact that everything is contained within the ne8250.70pe chassis makes it easy for me to program a new unit here in Burbank, ship it to Hawaii and have them swap it out with no problems. On top of that, Ashly's five-year warranty gives them peace of mind. Of course, Ashly can safely offer that kind of protection because their gear has such a low failure rate."
Gordon created a custom user control app for the iPad using the Ashly Remote App. "They love the iPad user control," Gordon said. "They can control source selection and volume in all of the zones. It's perfectly intuitive. We also gave them two Ashly WR-5 wall mounted controls to serve as backup in case their network goes down."