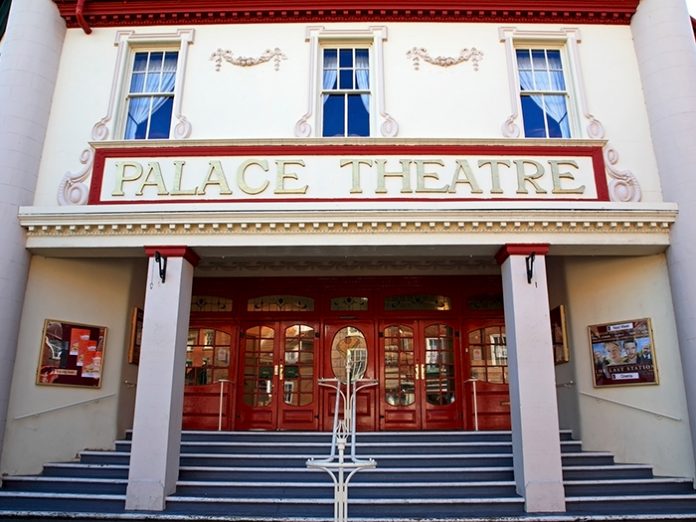 Newark-on-Trent is a thriving market town in the heart of the East Midlands with a strong cultural heritage. Part of that heritage is the 600-seat Palace Theatre built in the 1920s originally as a picture house but now laid out as a traditional proscenium arch theatre with front stall, rear stall, circle and boxes. The venue recently invested in a significant EM Acoustics HALO-C system to replace their ageing Martin Blackline rig and bring the venue's audio specifications into line with the demands of modern productions.
"We were well overdue for an upgrade," admitted the Palace's technical manager, Mark Noutch. "By modern standards our old system was seriously underpowered and we continually failed to deliver quality sound with any energy to the furthest parts of the theatre. My goal was therefore to design a system that would deliver sufficient power to cover every seat in the house with the same clarity and energy. It also needed to be compact enough that when flown it would leave enough space to accommodate any ground-stacked touring elements. However, my ultimate ambition was really to provide a system of sufficient power and quality such that touring acts would no longer feel the need to bring in their own systems, thus creating a further potential long-term income stream for the venue".
Noutch already had considerable experience of EM Acoustics as it was a brand that he saw often with visiting productions. "I know how much EM gear is esteemed in the theatre world, and on every occasion we've had it here at the Palace, the engineers and crew have always commented on the clarity, reliability, affordability and build quality, so as you can imagine, once I knew that we were in the market for a new system, it didn't take long to sit down and start our planning".
That said, Noutch did look at other systems as well to begin with – equally, the ones that had impressed him and his team when they were brought into the Palace, and which he felt deserved a "serious look". However, it quickly became apparent that the best solution from every point of view was going to be EM Acoustics' HALO-C system. Noutch spent some time discussing the theatre's requirements with EM's David Kelland and how they could best achieve their vision.
"Being a traditional theatre space, and in our case with a listed ceiling with no available load capacity, we had several limitations to contend with," explained Noutch. "We don't have much ground-stack capacity either, so our only option in order to leave floor space for touring systems and to alleviate the issues of the relentless nightly de-rigs was to fly the system from a wall bracket to side of the proscenium arch. At 17kgs per box the HALO-C is ridiculously light considering the power it delivers and a total hang weight of 140kgs was a no-brainer".
The final system comprised L-R hangs of seven HALO-C cabinets supplemented by six EMS-51 front fills, twelve EMS-51s in the balcony boxes, two EMS-129 rear fills and two EMS-118 bass loudspeakers. A strong front fill system was essential due to the proximity of the front row to the stage and the fact that the main hang sits very wide of the centre of the front row. Another important consideration was to ensure that the circle was equally well catered for as nearly 50% of the audience is seated in the upper area. Finally, Noutch wanted to ensure that special attention was paid to the corporate boxes as, despite their VIP status, they aren't actually the best positions from which to view or listen. The main hangs are powered by a pair of EM Acoustics AQ-10 amplifiers with system processing courtesy of a couple of DSC48s. The fill/delay systems are driven by the venue's existing MC2 amplifiers.
"We installed the system ourselves and asked Ed and David to commission it, which they gladly did for us. I'm delighted with the results," said Noutch. "Not only does it sound absolutely amazing from every seat in the auditorium, but it's just so much more flexible than our previous system. It's configured in such a way that we can allow incoming companies to use all or just the specific parts of the system that they need whilst we retain control of the rest. I'm proud to say that we now have the best sound system of any venue in the area!"