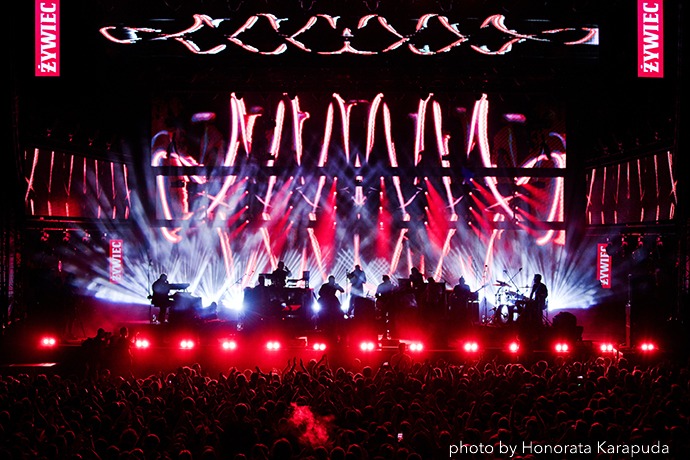 Meskie Granie is without any doubt one of the most resonant events in the Live Production in Poland and also a national reference point for the entire industry of professional Lighting and Video technologies. The Meskie Granie's itinerant festival, this year present in seven main Polish cities, brings together under the same "light" some of the most famous  stars who signed a milestone in polish music and  new emerging talents , alternating everything on two opposite stages and strictly Live!
The 2017 edition left a mark, offering one of the most impressive setups ever made and using almost entirely Prolights fixtures, where many of the products presented at the latest PL + S debuted for the occasion as world premiere.
Production agency "Live" has entrusted the task of preparing the whole visual concept to the creative producer and production designer Paweł Pajak (well know as Spider). He is a founder and creative director of Percepto [Cretive Production Lab] which took responsibility for artistic, visual and technical direction of the tour. Percepto specializes in inventing and delivering creative visual solutions including set, lighting and video content design as well as the full preproduction solutions, creative direction and show execution for all kinds of live events. Percepto was born from the concept of creative collaboration between artists and experienced professionals from different fields of the entertainment industry.
Pawel "Spider" Pajak commented on the cooperation with Prolights: "In the Meskie Granie festival, for the first time I had experienced a stage lit almost entirely with Prolights equipment. It's that kind of event where every detail is under the zoom lens and I was particularly impressed by the seriousness and support shown by both Show Design, Polish Prolights distributor and the team in Italy who were very helpful to assist us on the field and also apply some firmware changes to the products that facilitated the programming phase, considering that is an event lasting over 6 hours. I was particularly surprised by the new Sunblast3000FC and its hybrid strobe concept, which in addition to extraordinary brightness combines even more advanced creativity by offering the ability to control the pixels through ArtNet, which I often used during the show through direct control from the d3 media server so in fact there were used also as low resolution screens. In addition, the new IP65 PANORAMAIPAB moving  head proved to be exceptionally powerful, despite the large amount of LED screens the beams were crisp and of great impact. I've also enjoyed combination of two separate prism effects. Im also very happy with the Arena COB4 FCs as I've used them both as a audience blinder and thanks to really nice color mixing system and separate pixel control as an effect fixtures. Last but not least I have to put good words on StarkBar 1000s as they are very powerfull led fixtures with separate pixel control, tilt movement and zoom so the combination of all that features makes them very usefull and interesting tools for me. Overall I can say I am very pleased with the end result, with an emphasis on the reliability of the products that despite the large number of pieces and the 7 dates of the tour, did not show any problems. "
VES sp. z o.o. Is the Rental & Production Division of TRIAS Group and also one of Poland's leading player in events production, and has provided all the Video and Lighting technologies for the Meskie Granie Festival 2017. It is one of the rental companies in Poland with the largest inventory of Prolights lighting fixtures which is constantly renewed each year with the latest releases. Zbigniew Klonowski, president of the TRIAS Group: "It is always a pleasure to measure into such events as Meskie Granie, which combines the best artists and operators in our industry. Working with professionals of Pawel's caliber gives great motivations and despite the important dimensions and many technical aspects of the event. Męskie Granie 2017 tour once again showed us how important a good teamwork is . I'm  proud of all the VES workers who took part in this project. We feel very pleased with the result. It's all so easy when you have great of support on your shoulders …"
Show Design, is the distributor in Poland for Prolights and other brands of Music & Lights. Marek Czarnik, CEO of Show Design: "Meskie Granie is a great showcase for our market and we are delighted to have successfully completed the challenge. We are confident that  people will talk about it for a long time and it will facilitate our operations on the fields."
Fabio Sorabella, Product Manager for Prolights, says: "We have an excellent distributor in Poland, and Meskie Granie is a great example. Thanks to Show Design we had the pleasure of knowing Pawel and other great professionals in the country. I am very impressed by the quality I have witnessed in person at Wroclaw's show, it is not easy to attend an event with such  artistical and technical level . Good job to everybody that has been involved!"