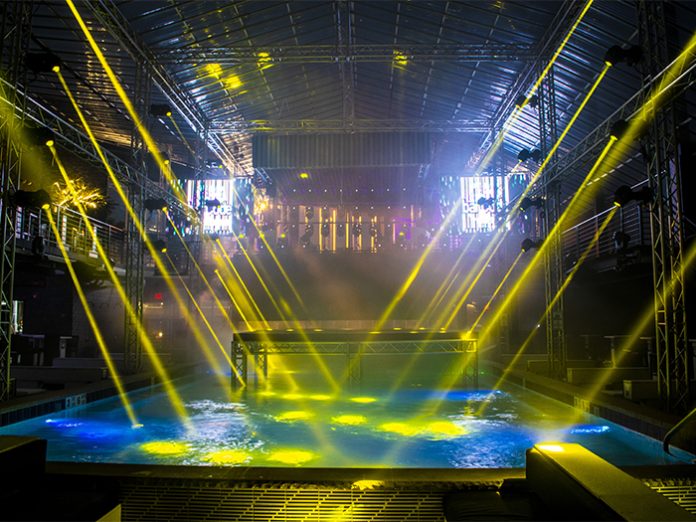 Sports bar and restaurant throughout the week and full-on nightclub at the weekends, barCode is a well-established staple of the nightlife scene in Elizabeth, NJ. As part of a recent expansion of the venue's pool area, its owner has recently purchased 100 ADJ Hydro Beam X1 IP65-rated moving head fixtures to generate an awe-inspiring lightshow. Chosen for a variety of reasons – including their compact size, intense output, and wireless DMX compatibility – the ADJ fixtures have allowed the club to level up its production to rival any in the Tri-State area.
A versatile venue, barCode features a variety of spaces which combine to offer a total capacity of up to 5000. The installation of the ADJ fixtures was part of a recent multimillion dollar renovation, which included transforming the club's outdoor pool area into a large multi-purpose performance space. A truss structure now surrounds the pool to support the lighting, while a retractable roof allows for use all year round, and the pool can be covered to create a large dancefloor. Mike Piscitelli, through his company Soundworx Systems, who has worked with barCode's owner Eddy G for around five years, was responsible for supplying and installing the ADJ Hydro Beam X1 fixtures, which were carefully selected to meet the specific needs of this flexible space.
"We wanted a light that could perform under extreme circumstances," stated Piscitelli, "from heavy rain to hot summer sun, and the Hydro Beam X1 was the obvious choice. It is IP65-rated, so protected from both rain and water splashed up from the pool, and has a really good cooling system. The sealed casing design also means that the internal mechanism and electronics are protected from dirt and debris. When we put regular moving heads into clubs it's amazing how quickly they get clogged up with dust and grime, but that's not a problem the with X1s."
Powered by a potent 100W Osram Sirius HRI, 6000-hour discharge lamp, the Hydro Beam X1 produces a razor sharp 3-degree beam. Packed with features, it offers 14 colours and open, 15 GOBOs and open, a 16-facet prism, a frost filter to create a wash effect and an inbuilt WiFLY EXR wireless DMX receiver. Despite a compact footprint and low weight, it generates an impressive output that is ideal for creating aerial effects in large clubs or on concert stages both in and outside.
"When I met with Jon Schwille [from Healy Sales, ADJ's Manufacturer's Representative firm covering New Jersey] to first demo the Hydro Beam X1, I was really impressed with the output from such a small light," enthused Piscitelli. "It has a real punch and the price is very good considering all that it has to offer. It's a great fixture that is a pleasure to work with. The wow-factor that is created by having 100 these lights at barCode is unbelievable. On a weekly basis we have people posting a tremendous amount of photos and video on social media – they are blown away by the level of production – it's like something out of Vegas!"
When ADJ visited the venue to take photographs, an array of 32 Hydro Beam X1 fixtures were positioned behind the DJ booth, capable of shooting a myriad of razor-sharp beam effects out over the DJs' heads. Meanwhile, additional sets of four fixtures were mounted vertically to the truss uprights surrounding the pool. However, Piscitelli pointed out that the configuration of the fixtures is changed regularly to suit particular events, or to meet rider specifications from guest performers, as well as to keep the experience of attending the club fresh for regular patrons.
"The fact that the X1s are so compact and lightweight makes it really easy for us to move them around," explained Piscitelli. "We have them on quick-release clamps and can easily switch up the positions depending on the production requirements of a particular event. This is made even simpler by the X1s' built-in wireless DMX transceivers. We make use of these to send the DMX control signal from our console wirelessly, so the only consideration when it comes to fixture placement is power."
ADJ's WiFly EXR Battery standalone DMX transceivers are used to transmit the DMX signal from the club's lighting booth to the Hydro Beam X1 fixtures arranged throughout the truss structure. To operate the rig, Piscitelli and his team use ONYX from ADJ's sister company Obsidian Control Systems, making use of a PC-based setup with a NX Wing hardware interface. In addition to the ADJ fixtures, the club also has 18 SIXPAR 200IP LED par fixtures from Elation Professional, another of ADJ's sister companies.
"Eddy, the owner, loves the fixtures and is very happy with both the service that we provide and the quality of the ADJ product," concluded Piscitelli. "In fact, he's just placed an order for 24 Vizi Beam 12RX moving heads that we're going to install inside the venue. From my perspective, I've also been very impressed with the service I have received from ADJ. We had a problem with one fixture, but Jon sent down an immediate replacement. That's the type of service that I want; I want to deal with people, and businesses, that want to help me succeed and that's what I get from ADJ. The level of service from ADJ is crazy it's so good!"