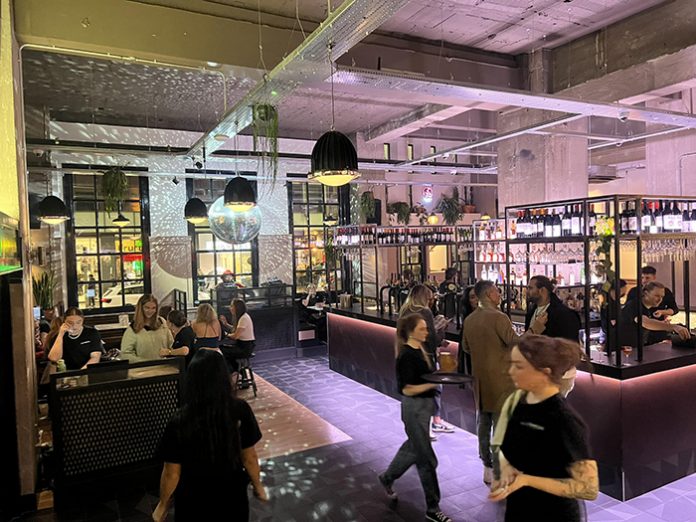 Located in the heart of Manchester and opened in late 2022, Exhibition is a high-end late night venue with expertly curated food and drinks. The interior is classic Manchester 'industrial chic', which, when combined with clever lighting, a beautifully- appointed bar and comfortable seating, delivers a contemporary leisure space with a very special ambience.
Their restaurant floor features three award-winning independent kitchens, offering some of the best dining experiences Manchester has to offer, while the drinks menu includes the freshest possible beers from huge copper stills and a unique cocktail selection.
The venue also features a centrally-located DJ booth and music plays a big part in delivering the experiential ambitions of Exhibition. Locally-based Neuron Audio Visual designed, installed and commissioned a distributed audio system using Outline Vegas- series enclosures that delivers exactly as required.
16 Outline Vegas 10 full-range loudspeakers are distributed around the main space with another four in the restrooms. A single Outline Movie S218 subwoofer provides the low-frequency energy, chosen because its shallow depth allowed placement in a specific space – the low frequency performance of the system as a whole is assisted however by the Vegas 10s impressive LF extension. The entire system is powered by just two Powersoft amplifiers, a Quattrocanali 8804 DSP and a Ottocanali 8K4 DSP.
Alex Morgan of Neuron AV commented: "Outline's Vegas 10 was ideal for this project as It offers great consistent coverage, high output and good LF extension and in a relatively compact and stylish enclosure. These factors, combined with its passive design (which minimised the number of amplifier channels required) and the range of mounting options made it and the Movie S218 subwoofer the perfect choice for Exhibition."