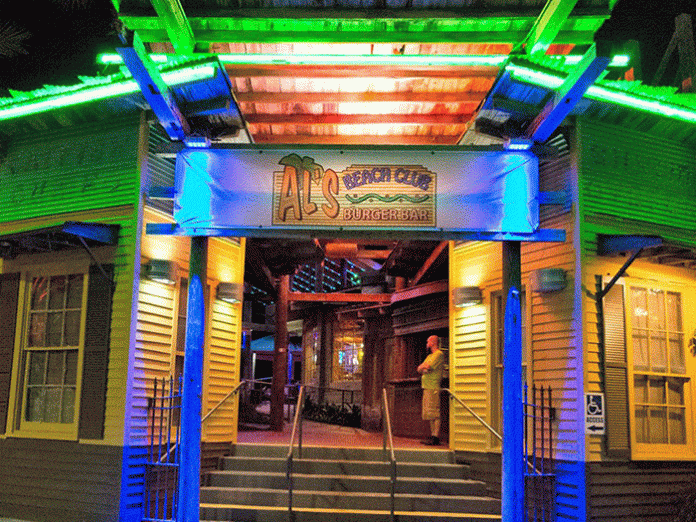 Anyone wanting to take a look inside Al's Beach Club, doesn't have to try too hard. That's because for all practical purposes, this new live music venue has no "inside." The only club in Fort Walden Beach located directly on the city's famed Emerald Coast beach, Al's is almost all open air, with no walls or barriers separating it from its surroundings.
This breezy configuration makes for good times, but it also creates a challenging environment for a lighting system. Aside from contending with wind and sand, any fixtures installed at this club have to stand up to the rain. (Averaging 69 inches of precipitation a year, Fort Walden is the rainiest city in Florida.) Sohail e. Najafi and his team at Najafi Design Group (Los Angeles, Las Vegas) were well aware of this challenge, which is why they designed the lighting rig at Al's around a collection of IP-rated fixtures from CHAUVET Professional and its sister company ILUMINARC.
Sohail commented: "This is an incredibly beautiful site, located directly on 500 feet of pristine white sand beach. The open-air structure contributes to the overall beauty of the venue, but our client was having a hard time finding fixtures that could last in their harsh marine environment. We specified fixtures that we knew were engineered to withstand the conditions that would be encountered here. Everyone involved in this project – the client, the contractors, as well as the electrical and integration teams – were all impressed with the solid feel of the Chauvet and ILUMINARC fixtures."
Sohail and his team installed linear and panel LED fixtures from Chauvet's ILUMINARC Colorist line. These included 30 Colorist 12Qa linear and 26 Colorist 6Qa linear units (both of which are RGBA) and two Colorist Panel 8Qa fixtures. Also included in the rig are 22 COLORado 2-Quad Zoom IP, three COLORado 1-Tri IP and four Q-Wash 260-LED fixtures, as well as two Vesuvio RGBA LED foggers from CHAUVET Professional, plus four Intimidator Wave 360 IRC four-headed moving fixtures from CHAUVET DJ.
The Chauvet and ILUMINARC fixtures in the Al's Beach House rig are much more than solid workhorses able to stand up to the elements. Sohail and his team, which included Associate Designer Joshua Cuellar and Assistant Designer Alyssa Champo, also relied on the colour-rendering capabilities of the fixtures, particularly the COLORado 2-Quad Zoom and the Colorist units, to create a well-defined architectural structure in the open air club.
Highlighting a series of specialty palm trees imported from California to Florida in the club's front feature with subtly colour changing light from the Colorist units, the designers have used richly textured hues to distinguish the open air building from its surroundings. Colorist fixtures also wash the 50' foot high by 200' long roof super structure over the main venue area. The colourised ceiling creates a memorable visual impression when viewed from inside the club or seen from the beach through its open walls.
For added excitement, the Colorist fixtures are pixel mapped. Many bystanders, clients, contractors, or venue staffs stare in awe of the pixel-mapping capability of these Colorist fixtures during testing and programming.
Also impressive are the colourful shafts of light from the four Q-Wash and four Intimidator fixtures flown over the club's bandstand stage. These units are used primarily for stage air effects and provide impressive visuals from just a handful of fixtures. Lighted fog effects from the Vesuvio fixtures add a bold dramatic element to the stage lighting effects as they are flown directly above the performance area focus out toward the audience.
Solhail concluded that he is extremely pleased with the performance, versatility, durability, and value from these COLORado and Colorist fixtures and cannot wait to see how they wow audiences for many seasons to come.
Indeed, the Chauvet and ILUMINARC rig has already handled its share of rain and Gulf Coast winds, but it hasn't been exposed to snow yet. Of course that isn't likely; the last significant snowfall in Fort Walden Beach took place on January 31, 1977. However, if these conditions are repeated, this rig is ready.
https://www.chauvetprofessional.co.uk