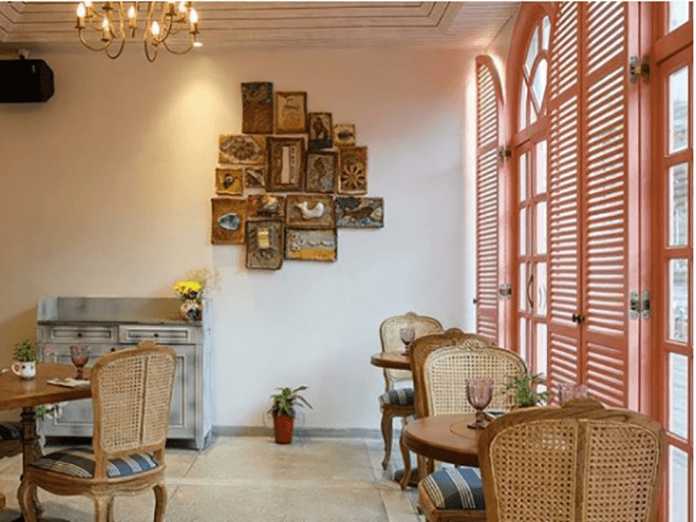 The best of West-meets-East, Mustard's authentic Bengali & French cuisine from the heart of Goa is now in Mumbai with an aural experience that enchants and mesmerises just as much as the food does.
Music is what livens the ambience at Mustard, with the charter covering non-intrusive music during the day, which progresses into a slightly more upbeat and groovy electronic agenda as the evening sets in.  The music is charted by the venue's resident DJ, who work closely with the management team in devising unique and enticing themes for each day of the week with the idea of keeping things fresh and vibrant for patrons, especially those who frequent the venue on a regular basis. The programming schedule, we learn, is created after careful analysis of local and international music trends and customer feedback.
And bolstering the subliminal music experience here is the exceptional aural reinforcement which heightens the music playback throughout the venue – delivered through a top-notch pro audio architecture utilising products from world class brands Nova Audio and ToneArt; designed and integrated by the team from Rivera International – the brands' official distributors in India. Rajesh Sadarangani, director of Rivera International, commented "Mustard is a beautifully elegant venue that offers the finest quality experience to their patrons through the dining service as well as the ambience. We've been told that the audio experience enhances the already enchanting ambience manifold, and that in itself is a huge compliment for us. We thank the management at Mustard for all the faith they've shown in the quality of our brands and for giving us the opportunity to provide the venue with the kind of world-class sound befitting its stature and elegance."
The audio system at Mustard comprises a meticulously planned loudspeaker scheme featuring the use of the acclaimed VISIO series of loudspeakers from NOVA Audio; with multiple numbers of the VS10 and VS12 loudspeakers deployed at the main seating area, with the VS18 subwoofers providing the much-appreciated low frequency fidelity. The entire loudspeaker set up is powered through a fortified amplification system comprising the supremely efficient DXi series power amplifiers from NOVA and R – series (R11Q) power amplifiers from ToneArt. The meticulous audio design and precise alignment of the system ensures consistent coverage, crystal clear sound and impressive aural impact across the venue. Additionally, the venue also sports a DJ booth that's loaded with the latest DJ gear from niche brand Reloop – with the RMP4 hybrid media players and RMX33i mixer gracing the decks for high quality unbridled DJ music playback.
A member of the management at Mustard shared their views about the audio experience, saying "The audio system that we've installed at our venue is simply outstanding. Team Rivera have done a fantastic job with the installation and we must say that the speakers sound absolutely fabulous no matter what genre of music we play. Plus, the system has enough room to deliver a louder and more impactful audio performance whenever needed. Also, the system is so easy to use and even better when it comes to maintenance. We're absolutely amazed by its performance, and we're so glad we chose this system over the rest of the options presented before us."