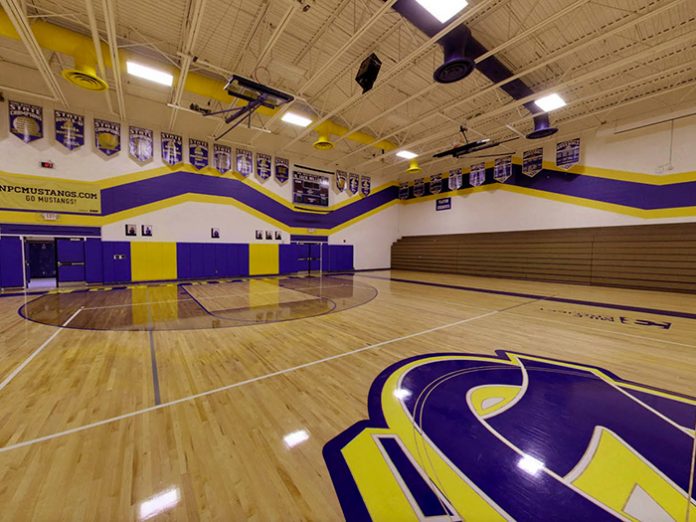 NorthPointe Christian Schools serve students on the northeast side of Grand Rapids, Michigan. In their final four years, high schoolers attend the Leonard Street campus, with average attendance in the neighbourhood of 350 students, and compete athletically for the NorthPointe Mustangs. The high school gym can accommodate up to 1,000 people for basketball games, volleyball games, graduation ceremonies, and other events. Parkway Electric & Communications of nearby Holland, Michigan recently replaced the gym's aged sound reinforcement system with a stellar new system built on Ashly nXe 1.54 four-channel network-enabled multi-mode amplifiers.
"Their existing system was remarkably old and consisted of dissociated boxes and horns powered by failing amplifiers," explained Jeff VandeHoef, Engineer at Parkway E&C. "Since we've been working successfully with the school on other projects for years, they came to us when they had had enough of that old system. We gave them a new system with plenty of flexibility to accommodate the variety of events that they hold in the gym. The loudspeaker and subwoofer placement is strategic, and we gave them plenty of zones to turn on or off via plenty of amp channels.
Indeed, a pair of 2U Ashly nXe 1.54s deliver a combined eight channels of amplification at 1500W per channel in just four total rack spaces. "The Ashly amps are fantastic," said Jeff. "As with any high school project, budget was an issue, and so we were very pleased to be able to run the entire system – subs included – from these two Ashly nXe 1.54s. Space was also an issue, so the fact that we were able to squeeze all of the power requirements into four rack spaces was a huge plus. Finally, based on past experience with Ashly gear, we know their amps are rock-solid reliable. This system will serve NorthPointe for a long time to come."

Users control inputs to the system from a custom-made desktop input panel. It includes an input for a hardwired microphone and an input for smartphones and music players with 1/8-inch outputs. In addition to volume controls for those two inputs, it includes volume controls for a permanent wireless microphone and a Bluetooth receiver that allows, for example, gym teachers to play music from their iPhones without a wired connection. Two CAT5 cables connect the input plate to a Symetrix Radius DSP, which handles the zone control so that the system can accommodate myriad functions. For larger or more complicated events, Parkway E&C gave the school an Allen & Heath QU-series mixer. Five Martin CDD12 and four Martin CDD15 loudspeakers join two Martin CSX 118 subwoofers at the final output stage.
www.ashly.com