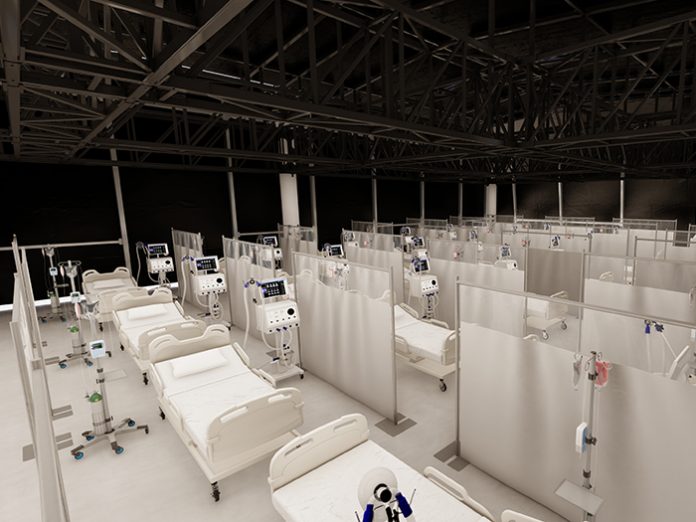 Mountain Productions Inc., the largest staging company in North America, is refocusing efforts to helping communities and government officials by providing temporary and mobile large scale emergency response centres and hospital structures in the wake of the Coronavirus outbreak.
Mountain Productions understands the rigours and tight timelines required for temporary construction due to its vast entertainment production experience with work on events such as Coachella, Ultra Music Festival, Live 8, Papal Visits, TheWhite House Christmas Tree Lighting and the NFL Draft. Therefore, in an effort to help combat this current pandemic they have harnessed their experience to create a series of innovative emergency response structures from existing equipment to produce customisable large scale mobile hospitals and emergency response structures that accommodate up to 30,000 sq ft, along with smaller mobile testing centres, and temporary living quarters. With a large global engineering and design team, the company can also tailor smaller structures and provide bespoke solutions for Health Care systems with limited space. The company, with a staff of more than 150 and facilities in Pennsylvania, Los Angeles, Las Vegas, and Dublin, Ireland, are available to deploy these structures around the country and globally on an immediate basis with a build time of three days.
"This is a time where our company's innovation can meet our nation's need with incredibly unique solutions. We are ready and able to do so and deploy our equipment immediately to support America and those across the world," said Ricky Rose, CEO, Mountain Productions Inc.
In this time of crisis, the Mountain Production team is ready to band together to address needs across local, state and federal level to help ease the strain on medical facilities nationally. If you, your company or someone you know has structures or equipment that might aid in these efforts, we are inviting you to participate. We are all in this together and if you have the resources, our team will step up to ensure they are deployed to address this crisis.